Industrial Ethernet Connectors are 10 gigabit-capable.
Press Release Summary: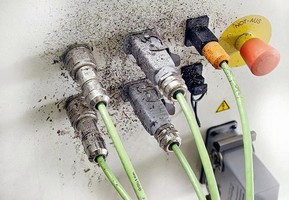 Industrial Ethernet connectors provide IP67 solutions for copper and fiber optic cabling across all Ethernet standards. Connector plug and bulkhead housings in die cast zinc, polyamide plastic, and die-cast aluminum, are available in Ethernet/IP, Ethernet TCP/IP, and PROFINET® versions. Each version is completely sealed to withstand extreme environmental conditions. STEADYTEC® cable pass-through design accepts shielded cables up to AWG 22 and allows 8-wire cables to be used.
---
Original Press Release:

New Industrial Ethernet Connectors from Weidmuller with STEADYTEC® Technology



RICHMOND, VA (April 22, 2008) - Connectors for industrial applications need to be designed so that they are highly reliable, simple to use, and support the demands of high-speed data transmission. Weidmuller introduces a new series of Industrial Ethernet connectors designed to stand up to the demands of industrial environments. Featuring STEADYTEC® technology, this new line of robust plug-in connectors is 10 gigabit-capable, modular and provides universal IP 67 solutions for copper and fiber optic cabling across all Ethernet standards.

Weidmuller's new Industrial Ethernet Connectors are modular in their design, offering a variety of materials and connection options for installation and application flexibility. The connector plug housings and bulkhead housings are available in Ethernet/IP, Ethernet TCP/IP and PROFINET® versions. Each version is completely sealed to withstand extreme environmental conditions and is IP 67 rated. The STEADYTEC® cable pass-through design accepts shielded cables up to AWG 22 and allows 8-wire cables to be used. This allows for 10 gigabit performance and PROFINET® support. These new housings and bulkheads are available in die cast zinc, polyamide plastic, and Weidmuller's industry leading RockStar® Heavy Duty Connector housings made of die-cast aluminum.

Fiber optic inserts include SC Simplex and LC Duplex versions for the Ethernet/IP and Ethernet TCP/IP plug and bulkhead housings. These inserts include a special Kevlar crimping option for added strain relief for fiber optic cables. The die-cast zinc construction makes them suitable for industrial applications. The STEADYTEC line also includes one-of-a-kind field installable RJ45 connectors. These revolutionary connectors meet all Ethernet standards, support 10-gigabit speeds, and require no tools for installation. In addition to the innovative technology, these RJ45 connectors have UL approvals, are the smallest size available in the market, and can reduce wire termination time by 80%.

For additional product information, go to www.weidmuller.com.

Weidmuller is the leading provider of solutions for the transmission of power, data and control signals in industrial environments. The company develops, produces and sells industrial electronics, network infrastructure components and connectivity solutions such as Industrial Ethernet, Relays, Power Supplies, I/O modules, printed circuit board connectors, terminal blocks and complete DIN Rail assemblies. The Weidmuller group has a strong international focus with manufacturing and sales locations in over 70 countries.

Weidmuller 821 Southlake Blvd. Richmond, Virginia 23236
Phone: (800) 849-9343 FAX: (804) 379-2593

More from Computer Hardware & Peripherals