Industrial Enclosures are non-powered and weatherproof.
Press Release Summary: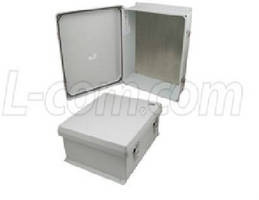 Offered in 8 x 6 x 4 in., 10 x 8 x 5 in., and 16 x 14 x 6 in. sizes, non-powered, weatherproof, industrial enclosures hold sensitive equipment in locations where weather, impact, or security are issues. Blank aluminum or non-metallic Starboard mounting plates are available and can be custom-drilled on location to suit equipment stored within boxes. Also available without mounting plate, enclosures offer room for equipment that does not need AC power or that can accept direct PoE.
---
Original Press Release:

L-com Adds New Sizes to Its Non-Powered Weatherproof Industrial Enclosures Line



NORTH ANDOVER, MA - L-com, Inc., a designer and manufacturer of wired and wireless connectivity products, has added three new sized weatherproof industrial enclosures with and without mounting plates included to supplement their popular weatherproof enclosures: 8x6x4, 10x8x5, and 16x14x6 inch enclosures. The new options feature either a blank aluminum mounting plate, a blank non-metallic Starboard mo unting plate, or no mounting plate included. The mounting plates can be custom drilled on-location to suit the equipment that is stored within the boxes.

L-com's non-powered industrial enclosures are popular for their many size options and broad range of applications that they can be used in. All of them are designed to be installed to hold sensitive equipment in locations where weather, impact, or security are issues. Without the power outlets that are featured in L-com's 240V AC powered enclosures and 120V AC powered enclosures, the non-powered enclosures can offer more room for equipment that does not need AC power or that can accept direct Power over Ethernet.

"We have carried other sized enclosures for a long time and they have been very popular," said Patrick Pesa, Director of Product Development. "We know we cannot plan for every one of the myriad applications for our enclosures, so offering a large variety of sizes and mounting options helps accommodate the majority of our customers."

Along with the enclosure/plate kits, L-com sells the mounting plates separately, and they can custom-drill mounting plates in their factory upon request.

For a high-resolution version of the image suitable for print publication, click here:
http://www.l-com.com/lcom_emails/2012/081312/NB161406_KIT.jpg

For more information about this release, please contact:
Dave Fallon, Internet Marketing Strategist
978-682-6936 x1450, newsletters@L-com.com

L-com, a global designer and manufacturer of wired and wireless connectivity products, offers a wide range of solutions and unmatched customer service for the electronics and data communications industries. The company's product portfolio includes cable assemblies, connectors, adapters, computer networking components, and custom products, as well as the Hyperlink line of wireless products. Trusted for more than 30 years, L-com, Inc. is headquartered in North Andover, Mass., and is ISO 9001: 2008-certified. For more information, please visit: http://www.L-com.com/

More from Electrical Equipment & Systems