Industrial Device Servers support both copper and fiber.
Press Release Summary: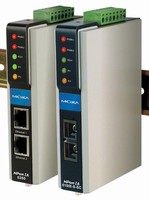 Equipped with dual Fast Ethernet ports, NPort IA series connect serial devices to 100 Mbps copper or fiber Ethernet networks. When using SC connector to connect to Ethernet network, distance can be extended up to 40 km using single mode fiber. Products come in 1 in. wide DIN-Rail type and fiber Ethernet NPort device server. Each unit is equipped with software-selectable RS-232/422/485 interface, dual power inputs, and power fault warning by relay output and email.
---
Original Press Release:


Moxa's New Industrial Device Servers Support both Copper and Fiber




Taipei, Taiwan, Sep 13, 2005-Moxa is happy to introduce the new NPort IA series of industrial device servers that connect serial devices to 100 Mbps copper or fiber Ethernet networks. NPort IA device servers are equipped with dual Fast Ethernet ports (RJ45, 10/100BaseTX), allowing the device servers to be cascaded for easier deployment. When using an SC connector (100BaseFX) to connect to an Ethernet network, the distance can be extended up to 40 km using single mode fiber.

"Industrial automation applications require slim-type DIN Rail modules to fit into small control cabinets. In addition, fiber Ethernet is getting more and more popular for high noise environments due to the reduced price of fiber optic cable," said Jackie Shi, product manager for Moxa. "To meet this demand, Moxa's new NPort IA device servers come in a 1-inch wide DIN-Rail type and fiber Ethernet NPort device server."

NPort IA device servers are equipped with a software selectable RS-232/422/485 interface, and the 1-inch wide NPort IA saves space in the DIN-Rail mounting rack. In addition, NPort IA device servers come with dual power inputs. If one power source fails, or the Ethernet link is disconnected, alarms can be generated with a built-in relay, or an urgent email alert can be sent to the administrator.

Key Features
o Slim type, 1-inch wide DIN-Rail mounting or wall mounting
o 10/100BaseTX (RJ45) or 100BaseFX (SC connector)
o Built-in dual Ethernet ports for easier wiring
o Redundant dual DC power inputs
o Warning by relay output and E-mail

Moxa Technologies is part of the Moxa Group, a conglomerate that manufactures device networking products for industrial automation. Information about all Moxa products, which include industrial Ethernet switches, serial device servers, multiport serial cards, and embedded device servers, is available on the Moxa Group's corporate website at www.moxa.com. You may also contact Moxa Technologies directly by email at [email protected], or by phoning +886 (2) 8919-1230

The MOXA logo is a registered trademark of the Moxa Group. All other trademarks mentioned in this document are the property of their

Contact: Terry Chen
Office: +886-2-89191230, Ext. 216
Email: [email protected]