Industrial/COTS Power Supply outputs 48 V at 1,500 W.
Press Release Summary: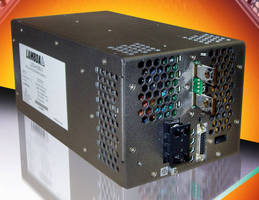 Meeting various safety-agency approvals and complying with MIL-STD-810E shock and vibration standards, LZSA1500-4 can operate in explosive gas atmospheres and provides full-rated output power over -40 to +60°C range. User-adjustable voltage accommodates non-standard requirements, while 20 msec hold-up and ride-through avoid nuisance tripping during electrical transients. Other features include remote on/off and programming, front panel voltage adjust potentiometer, and adjustable OVP.
---
Original Press Release:

TDK-Lambda Unveils New 48V at 1500W Industrial and COTS Power Supply



San Diego, CA - TDK-Lambda has extended its successful LZSA series of industrial power supplies to include a new 48V at 1500W model. Like the other models in this series the new LZSA1500-4 has a unique feature set and safety-agency approvals not commonly found in standard off-the-shelf supplies. A wide operating temperature range, compliance with MIL-STD-810E standards for shock and vibration, and the ability to operate in explosive gas atmospheres make the LZSA power supplies ideal for use in a variety of applications such as factory automa-tion, computing, ATE (automatic test equipment), petrochemical, control systems and COTS (commercial-off-the-shelf).

These rugged power supplies are available with a nominal output of 12V at 1000W, 24V at 500W, 1000W or 1500W, and now 48V at 1500W. They feature wide user-adjustment ranges of 10 to 15.75-volts, 18 to 29.4-volts, and 36 to 56-volts respectively to accommodate non-standard voltage requirements. With integral fan-cooling they provide full-rated output power from -40°C to +60°C, derating linearly to 60% load at 71°C ambient.

The LZSA series accept a wide input range from 85 to 265VAC, 47 to 440Hz and can operate with a DC input of from 100 to 400VDC. These units include active power factor and harmonic correction. They also comply with SEMI-F47 standards for input droop down to 100VAC at full load. All models include an industry leading 5-year warranty.

The units are designed to provide 20-millisecond hold-up and ride-through to avoid nuisance tripping during transient electrical interruptions.

The LZSA500/1000/1500 supplies are equipped with remote on/off, front panel voltage adjust potentiometer, remote resistance or voltage programming and user-adjustable over-voltage protection. Status signals and controls include DC good, AC Fail, Inverter OK, 200 kHz sync signal, and active current share. In addition, on the front panel a green LED indicates output-good and a red LED indicates an overvoltage or overtemperature condition.

These 500 to 1500-watt power supplies meet Class B EMI standards (both radiated and con-ducted) and are safety-approved to UL60950-1, EN60950-1, UL508, and Factory Mutual: FM3600, FM3611 and FM3810 specifications. They also comply with the Ring Wave Lighting Surge Test per IEEE C62.41 (6kV/30 Ohm, Criteria A) and Immunity Standards per EN61000-4-X. All units are RoHS-compliant and carry the CE Mark.

The model LZSA1500-4 (48V output) is available now and reasonably priced at $975.00 each in 1000 piece quantities. More information is available at TDK-Lambda's website:
http://us.tdk-lambda.com/lp/products/lzsa-series.htm

About TDK-Lambda
TDK-Lambda is a subsidiary of the TDK Corporation, a leading global electronics company and has been a major provider of power solutions for over 60 years. The company designs and manufactures a wide range of AC-DC and DC-DC power products for Medical, Industrial, Com-munications and Test & Measurement applications worldwide. For more information, call TDK-Lambda directly at 619-575-4400 or visit the website at: http://www.us.tdk-lambda.com/lp