Industrial Computers utilize Intel® Core i3 and Core i7 CPUs.
Press Release Summary: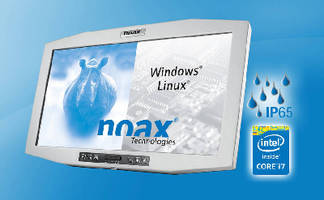 Equipped with N11 generation of motherboards, Industrial PCs include Intel®'s Hyper-Threading Technology for parallel processing and Turbo Boost Technology which dynamically increases clock frequency of individual cores. PCs support up to 16 GB RAM, SATA 6G, and Intel® HD graphics, which enable display of complex 3D graphics, such as those required for visualization in CAD/CAM programs. Rated to IP65 and IP69K, PCs also include DVI, USB 3.0, RS232, PCI and PCIe 2.0, and 2 Gigabit Ethernet ports.
---
Original Press Release:

noax Industrial Computers: New generation of motherboards with Intel® Core(TM)i7



noax industrial PCs (IPCs) are now available with new motherboards. The new N11 generation of motherboards features greatly improved performance, faster data transfer rates, and increased memory. Offering multiple interfaces and (2) full-size PCI and PCIe slots, the noax N11 PCs are very expandable and can easily be integrated for use with existing peripherals.



With its new generation of motherboards, noax Technologies AG has improved the performance of industrial PCs. The new motherboards feature the powerful Intel® Core i3 and Core i7 CPUs.



The efficient utilization of existing resources and increased parallelization of Intel®'s Hyper-Threading Technology allows these processors to process several tasks at the same time. Intel®'s Turbo Boost Technology dynamically increases the clock frequency of individual processor cores, thus speeding up programs that are older or cannot be operated in parallel.



The RAM can be expanded up to 16 GB which ensures significantly faster operation. Importance was also placed on achieving greater speed in the exchange of data between the processor and the hard drive thanks to the SATA 6G, which increases the data transfer rate considerably.



noax PC users will also benefit from the increased performance of the extremely powerful Intel® HD graphics. They enable the display of complex 3D graphics, such as those required for visualization in CAD/CAM programs to display a tool in three dimensions. DirectX 11 and OpenGL 4.0 are also supported.



The noax industrial PCs of the new N11 generation offer numerous ports such as DVI, USB 3.0, RS232, PCI and PCI Express 2.0, and two gigabit Ethernet ports. This variety of connection options ensures maximum flexibility, which allows noax industrial PCs to be used in varied wide range of environments.



Since the configuration can be adapted to customer needs, the information terminals can also be equipped with reliable interfaces such as PCI, RS422, RS485 or even LPT. This allows noax industrial PCs to still be compatible with older peripheral equipment without any additional costs. noax N11 generation industrial PCs are still fully protected from dust and water according to IP65 (NEMA 4) and IP69K. The ruggedness displayed by the noax industrial computers combined with the greater performance and flexibility is the ideal requirement for use in production environments, the food industry, and logistics applications. noax offers its customers industrial computers of the highest quality that can be integrated into specific applications. This allows noax to provide the user more room for customization and flexibility.



For more information, please visit www.noax.com.



About noax Technologies AG

noax Technologies AG ranks among the world's leading manufacturers of high-end, rugged, and reliable industrial PCs. The company has over 25 years of experience in the proprietary development and production of completely sealed systems. noax offers its customers a full spectrum of services ranging from consultation and sales to installation and comprehensive support. noax industrial PCs are used all over the world in the most demanding of industrial environments at well-known companies in the automotive, logistics, food processing, and chemical industries, amongst others. These computers – especially developed for industrial use – prove their resistance to heat, cold, moisture, dust, vibration, and shock on a daily basis.

More from Fluid & Gas Flow Equipment