Industrial Computer meets HMI requirements on plant floor.
Press Release Summary: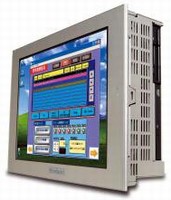 Suited for use on production floors, PS3710A Light-Duty Industrial Computer is powered by 1.6 GHz Intel® Pentium® M processor and features 15 in. display. Aluminum housing offers cut-out dimensions that facilitate HMI removal and replacement for Pro-face and Xycom clients. Along with Remote Access Server functionality, computer offers multiple I/O ports compatible for video, audio, USB, and Ethernet connections; choice of 1 GB or 512 MB RAM; and Windows 2000/XP OS.
---
Original Press Release:

Pro-face America Releases the New PS3710A 15



Reliability, Durability, Flexibility

Saline, MI - June 19, 2007 Saline, MI - June 19, 2007 - Pro-face America, North American division of Digital Electronics, announces the release of the PS3710A 15" Light-Duty Industrial Computer. This powerful system brings enhanced reliability, durability and flexibility to any production floor.

Along with its 15" clear, easy to read industrial display, the PS3710A system offers the powerful Intel® Pentium® M 1.6GHz processor, which significantly lowers heat generation. Lower heat output prolongs the life of sensitive components, such as a hard drive, and adds to the overall reliability this industrial computer system.

The PS3710A's aluminum housing adds to its durability, offering a case that is less likely to be damaged by traditional factory wear and tear. The cut-out dimensions are the same as the Xycom 4115T, so once again Pro-face and Xycom provide their clients with HMI investment protection, making the product transition as easy as "remove and replace".

Finally, the Remote Access Server (RAS) functionality and multiple I/O ports lend to the PS3710A's flexibility. With multiple I/O ports compatible for video, audio, USB and Ethernet connections, the PS3710A offers functionality for some of the most complex connectivity requirements. Other features lending to the IPC's flexibility include: a choice between 1G or 512MB of RAM, and a choice of preloaded operating systems - Windows 2000 or Windows XP.

Pro-face is the world leader in HMI solutions and industrial computer products. Pro-face continues to set the global standards for HMI solutions by offering the industry's most extensive product offerings with the highest levels of connectivity. Principal Pro-face products include HMI touch screens, operator interfaces, and industrial PCs. The Pro-face family also includes Xycom brand industrial PC products serving industrial, automotive, aerospace, packaging, plastics, textile and other markets.

Pro-face and Xycom have hardware and software installed in more than 300,000 factory-floor systems worldwide. Pro-face America is headquartered in Saline, Michigan. Pro-face has employees and sales and support representatives located around the world. For more information about Pro-face HMI products visit www.profaceamerica.com.

Pro-face America
Michael Mayrend
Commerical Marketing Manager
email: marcom@profaceamerica.com
phone: 734-429-4971 x471

More from Computer Hardware & Peripherals