Industrial Carpet Steam Cleaner targets bus companies.
Press Release Summary: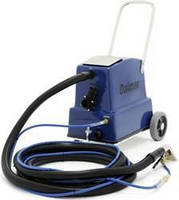 With temperature generation up to 210°F and pump pressure of 170 psi, XTreme Power® XPH-5900IU portable carpet extractor removes dirt deposits and stains from upholstered surfaces and carpeting. Included 4 in. upholstery tool is suited for cleaning carpeted areas and fabric upholstery in buses and other vehicles, while optional floor wand allows for cleaning large carpeted areas. Weighing 59 lb, this 2,400 W system has 5 min heating times and uses Low Flow™ technology to reduce water usage.
---
Original Press Release:

Daimer Unveils Carpet Cleaner for Bus Companies



Daimer Industries, Inc.®, the worldwide renowned supplier and USA brand of the best carpet cleaning machines, such as powerful commercial carpet steam cleaners, vapor-maximized steam vacuum cleaner systems, and many more, is debuting the XTreme Power® XPH-5900IU, a carpet and upholstery cleaning equipment that generates temperatures as high as 210ºF.



The industrial carpet cleaner comes equipped with a four inch upholstery tool for efficiently cleaning the carpeted areas and fabric upholstery in buses and other vehicles. Users can also purchase an optional floor wand to clean large carpeted areas very quickly. The carpet cleaning equipment includes a pump pressure of 170 psi, which is higher than other brands of carpet wash machine models.



"Bus companies clean buses on a daily basis to ensure their safe working and to provide good service to the public. Cleaning the interiors of buses requires the use of machines with modern technologies and superior features," states Matthew Baratta, Daimer Industries, Inc.® spokesperson. "Daimer® is glad to launch carpet cleaning equipment with reduced water usage, excellent suction capability, and rugged housing for quick maintenance of bus interiors regularly. The XTreme Power® XPH-5900IU can roll down the aisle easily, and includes hoses 25' in length, fast heating times of five minutes due to rugged inline heating elements, and quick drying times makes the job hassle free for the cleaning staffs of bus companies."



Daimer® is the nationally and internationally known company that supplies technologically-superior cleaning machines, such as versatile auto carpet upholstery cleaners, many a solid floor cleaning equipment, and many other productivity-enhancing machines. Its cleaning systems are used in most industries, due to their expert designs, attractive features, durability, cleaning power, efficiency, ease of use, and reliability. Many well-recognized global and national companies opt for superior-quality Daimer® machines instead of less robust and unreliable cleaning systems offered from other brands in the industry.



Dirty carpets and upholstery emits foul odors that disgust the ones using public transport. Moreover, the germs residing on spilled beverages and food deposits can become a health threat for the people. The XTreme Power® XPH-5900IU is one of the best carpet cleaning machines for the ones in the auto detailing business http://carpetcleanersdaimer.blogspot.com/2011/05/are-your-carpet-cleaners-suited-for.html, as it easily removes the dirt deposits and most stains on the upholstered surfaces and carpeting. The portable carpet extractor features Daimer®'s special Low Flow™ technology reduces the usage of water, which further helps in accelerating the drying time. The top quality car wash equipment http://www.carautodetailingusa.com/best-car-wash-equipment.html dries upholstery in nearly one hour and carpets in two hours, which completely eliminates the risk of mold formation as well.



The 2400 watt commercial carpet steam cleaners weigh just 59 lbs and can be easily transported in SUVs or cars. The XPH-5900IU auto carpet upholstery cleaners also feature easy recovery chamber drainage that allows users to let the dirty water out by simply pulling a latch. The machines are multipurpose and can be used for maintaining carpets made of different fibers. Daimer®'s exclusive advanced, Adjustable Temperature Control™ (ATC™) Technology, embedded in the XPH-5900IU machines, allows users to set the temperature as per the application. For instance, if the carpet is made of wool or natural fibers, then users can turn off the heat, ending the need to buy another non-heated machine.



The XTreme Power® XPH-5900IU http://www.daimer.com/carpet-cleaners/xtreme-power-xph-5900iu.htm is considered as the best carpet cleaner by most cleaning professionals, due to its self-maintenance features as well. The multi-purpose carpet cleaning equipment's Modular System Design™ (MDS™) and Self-Maintenance Engineering™ (SME™) technologies allow users to replace a part in case it is needed. The parts within Daimer®'s machines can be easily and quickly ordered from the company and can be replaced without any professional help.



For the fastest and best cleaning results, the carpets can be pre-sprayed with Daimer®'s Eco-Green® Carpet Care & Upholstery Cleaner solution. The solution is eco-safe and completely soap free. It gets extracted immediately, given the quality carpet shampooer machine's superior extraction power http://www.carpetcleanersmachines.com/blog/2012/01/powerful-carpet-shampooers-to-maintain-your-carpets/. For maintaining regular carpets, users can purchase an optional carpet wand with a 12' head. Long hoses up to 25' help clean large areas without even moving the heated carpet cleaner system.



For Additional Information:

Gather more knowledge about the XTreme Power® XPH-5900IU car wash equipment by visiting the supplier's official website or by calling Matthew Baratta at (888) 507-2220. The systems are shipped to most countries worldwide.



About Daimer Industries, Inc.®:

Daimer Industries, Inc.® is the globally respectable brand of advanced cleaning machines, such as high-grade industrial carpet cleaner systems, vapor steam cleaners, gum removal machines, auto detailers, hard surface cleaners, and more. The machines are used in many industries, such as hospitality, food service, cleaning, and many more, and can handle virtually all kinds of commercial cleaning applications.

More from Sensors, Monitors & Transducers