Industrial Appliance extends IT security to plant floor.
Press Release Summary: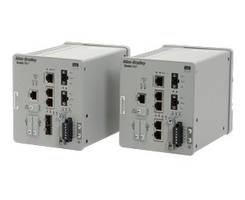 Supports compliance with IEC 62443, Allen-Bradley Stratix 5950 uses Adaptive Security Appliance (ASA) firewall and FirePOWER technology to create security boundary between cell/area zones or helps protect single machine, line, or skid. DPI technology, also included, enables inspection of Common Industrial Protocol (CIP) and other industrial protocols. Available with copper-and-fiber or copper-only, SFP slot options, IP30-rated appliance includes four 1 Gb Ethernet ports.
---
Original Press Release:
Rockwell Automation Launches New Industrial Security Appliance
Stratix 5950 appliance extends IT security technology to the plant floor

MILWAUKEE — Most IT firewalls today cannot protect against threats to industrial network traffic, which limits their ability to minimize security risks on the plant floor. The Allen-Bradley Stratix 5950 security appliance from Rockwell Automation incorporates new security technologies to help protect plant-floor systems.

The device uses Adaptive Security Appliance (ASA) firewall and FirePOWER technology to create a security boundary between cell/area zones or to help protect a single machine, line or skid. This supports compliance with IEC 62443. The device also uses deep-packet-inspection (DPI) technology. Developed in collaboration with Cisco, the DPI technology enables inspection of the Common Industrial Protocol (CIP) and other industrial protocols.

"Combining ASA firewall, FirePOWER and DPI technology gives IT professionals the granular visibility and control they need to protect industrial networks," said Divya Venkataraman, global product manager, Rockwell Automation. "With the Stratix 5950 appliance, users can now configure and enforce policies that help prevent potentially malicious firmware updates and program downloads. This helps enhance the integrity of plant-floor operations."

An optional subscription license is available with the Stratix 5950 security appliance. Similar to a PC-based, anti-virus service, subscribers will receive ongoing threat and application-signature updates to help protect against the latest known security threats.

The new appliance includes four 1-gigabit Ethernet ports, and is available with copper-and-fiber or copper-only, small form-factor pluggable (SFP) slot options. The industrially hardened device is IP30-rated and can withstand electrical shocks, surges and noise. It can operate in temperatures ranging from minus 40 to 60 degrees Celsius (minus 40 to 140 degrees Fahrenheit).

The Stratix 5950 security appliance is the first Rockwell Automation product offering with DPI technology, which was announced in April 2016 as part of the strategic alliance between Rockwell Automation and Cisco.

About Rockwell Automation
Rockwell Automation Inc. (NYSE: ROK), the world's largest company dedicated to industrial automation and information, makes its customers more productive and the world more sustainable. Headquartered in Milwaukee, Wis., Rockwell Automation employs approximately 22,000 people serving customers in more than 80 countries.

Media Contacts
Tiffany Pfremmer
Rockwell Automation
414.382.4814
tbockhop@ra.rockwell.com

Leanne Hanson
PadillaCRT
612.455.1776
leanne.hanson@padillacrt.com

Allen-Bradley and Stratix are trademarks of Rockwell Automation Inc.
CIP is a trademark of ODVA Inc.
FirePOWER is a trademark of Cisco.

Listen Think Solve
More from Test & Measurement