Industrial Adhesives handle high temperatures.
Press Release Summary: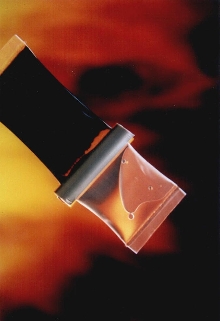 Type 921M01 electrically conductive silver epoxy cures in 15 min. and has glass transition temperature up to 145°C. Type 223F01 heat cured thermally conductive material withstands temperatures up to 230°C and meets NASA outgassing standards. Type F202 spectrally transparent epoxy handles temperatures to 265°C. Type 2248 thixotropic electrically insulating epoxy is NASA outgassing approved and withstands temperatures up to 190°C.
---
Original Press Release:
TRA-CON High Temperature Adhesives

As a leader in the epoxy industry for more than 30 years, TRA-CON understands the needs of its customers. TRA-CON has been able to move along, side by side with its consumers, old and new. As technology pushes ever forward, we know that customers need materials with higher performance. TRA-CON has answered the call in developing high temperature adhesives for all industries and applications.

TRA-DUCT 921M01: Long Work Life, Conductive Silver Epoxy Adhesive 921M01 is a high temperature, 15-minute heat cure, smooth paste, electrically conductive adhesive with a 2:1 mix ratio. A glass transition temperature of up to 145°C means it is hard, durable and versatile material.

TRA-BOND 223F01: High Temperature Thermally Conductive Adhesive 223F01 is a heat cured thermally conductive material, able to withstand temperatures up to 230°C. It has a low coefficient of expansion, low shrinkage, low moisture absorption material that also meets NASA outgassing standards.

TRA-BOND F202: Spectrally Transparent High Temperature Epoxy Adhesive F202 is a high shear, high glass transition material with an operating temperature range to 265°C. Whether for connectors, casting or lamination, F202 provides a 100% solids system that can handle your tough environment.

TRA-BOND 2248: High Temperature Epoxy Adhesive Thixotropic 2248 is a NASA outgassing approved material for all your needs. 2248 is an electrically insulating material that also has low water absorption. This heat cure can withstand temperatures up to 190°C and has a CTE of 50 ppm.

No matter what the industry, no matter what the application. no matter what the packaging, TRA-CON has an epoxy for you.

More from Computer Hardware & Peripherals