Inductors feature lead-free terminations.
Press Release Summary: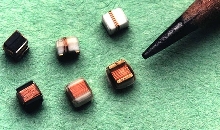 Surface mount, wire-wound CC Series Inductors are used for RF applications in electronics industry, especially for wireless and test and measurement equipment where solderability is concerned. Models CC0603, CC0805 and CC1008 have inductance ranges of 1.6 to 270 nH, 3.3 to 820 nH, and 10 to 4700 nH, respectively. Model CF1008 is available for applications requiring inductance from 1.2 to 10 mH.
---
Original Press Release:
Focus on Inductors with Lead-Free Terminations

Gowanda Electronics Responds to Market Need for Lead-Free Components

4 January 2002, Gowanda, NY (USA) - Gowanda Electronics announces it will focus a major portion of its product development efforts in 2002 on inductors with lead-free terminations, in response to an increasing need in the global electronics marketplace for lead-free components and devices.

Gowanda Electronics currently offers inductors with lead-free terminations via its surface mount "CC" and "CF" inductor series. These inductors are used for RF applications in the electronics industry.

The company plans to offer lead-free terminations on a number of its inductor products in the future. These products will be developed in response to specific customer requirements, with
many of Gowanda's "Fortune 500" customers expected to lead the way as concerns increase over lead-containing components. Gowanda anticipates the introduction of additional lead-free
inductor products for RF and power applications, the company's two key market segments.

Lead has traditionally been used for inductor terminations - and for many other electronic applications - because of its unique capability to meet high technology performance requirements in a cost efficient manner. There is a growing concern in the marketplace, however, that lead should be avoided, where possible, due to the environmental issues relating to its use during electronic component assembly and throughout the device's cradle-to-grave lifespan.

Concerns over lead are most prevalent in Europe and Japan. More stringent lead use rules and disposal standards in these regions are increasing the demand for a broad portfolio of lead-free
electronic components. It is anticipated that Europe will pursue regulations restricting the use of lead in electronic components and assemblies, with such regulations impacting the marketplace
as early as 2006. Ref: "Directive of Waste from Electrical and Electronic Equipment (WEEE).

Gowanda Electronics' wire-wound "CC" series, in addition to its lead-free terminations, was designed to offer improved solderability and therefore easier/faster assembly, enhanced system performance and greater system reliability.

This CC series of surface mount inductors is used in RF applications in the electronics industry, especially for wireless and test & measurement equipment where solderability is a major concern.

Gowanda Electronics' CC Surface Mount Inductor Series includes 3 models which are similar but differ in size and inductance ranges (in parenthesis): Model CC0603 (1.6 nH to 270 nH); Model
CC0805 (3.3 nH to 820 nH); and Model CC1008 (10 nH to 4700 nH). Wthin each model number there are a number of discrete products available with specific inductance values.

For applications requiring inductance in the range of 1.2 microHenries to 10 microHenries, the CF1008 Model is available. It is very similar to the CC Series, except that the core is ferrite.
More from Test & Measurement