Inductors are available with 4.50 and 5.40 mm profiles.
Press Release Summary: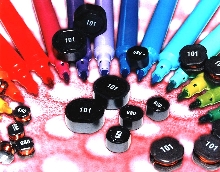 Miniature bobbin wound surface mount inductors offer inductance values from 2.7 to 220 microHenries (2400 series) and 3.3 to 680 microHenries (2600 series). DC resistance is rated to 0.028 ohms, and current handling capabilities are rated to 4.6 A. Inductors' open format allows for heat dissipation. Available in tape and reel format, inductors are fully compatible with high-volume automated manufacturing systems.
---
Original Press Release:

Surface Mount Inductors with Optional EMI Shield Save Space in Power Supply and Filtering Circuits


17-April, 2002, Tucson, Arizona - The latest series of miniature bobbin wound surface mount inductors from C&D Technologies combine inductance values from just 2.7 microH to 680 microH with low DC resistance and current handling capabilities to 4.6A.

Offering DC resistance values down to just 0.028 ohm, the new 2400 and 2600 series inductors are ideal for switching power supply designs, power line filter circuits, and other applications where high saturation currents and miniature footprints are required. In addition, for applications where electrical noise is a critical factor, the inductors can be supplied with an integral ferrite EMI shield.

Featuring values of between 2.7 and 220 microH, inductors in the C&D Technologies 2400 series have a board mounting profile of only 4.50mm and a maximum width of 5.80mm. The 2600 devices provide values between 3.3 and 680 microH and have a profile of 5.40mm and a maximum width of 12.60mm. The inductors are able to combine high current operation with compact size as a result of an open format that allows for significantly improved heat dissipation.

Available in tape and reel format, all of the new inductors are fully compatible with high-volume automated manufacturing systems. Prices for the 2400 and 2600 series start from $0.46 in OEM quantities.

C&D Technologies, Inc. is a technology company that produces and markets systems for the power conversion and storage of electrical power, including industrial batteries and electronics. This specialized focus has established the company as a leading and valued supplier of products in three major categories - reserve power systems, electronic power supplies and material handling systems.

The Power Electronics Division of C&D Technologies, Inc. designs, manufactures and distributes AC to DC power supplies and DC to DC converters and offers these products in custom, standard and modified-standard variations. These products, which are built to exacting requirements in IS09001-approved facilities, are typically used in telecommunications, computer and other high-tech products supplied by Original Equipment Manufacturers to a variety of customers worldwide.

Further editorial information from:

Rob Hill, C&D Technologies (NCL) Ltd

Tanners Drive, Blakelands North, Milton Keynes, MK14 5BU, England

Tel: +44 (0) 1908 615232 Fax: +44 (0) 1908 617545

e-mail: rhill@cdtechno-ncl.com


Local US editorial contact:

Mary Bodine, C&D Technologies, Inc.,

3400 E. Britannia Drive, Suite 122, Tucson, Arizona, 85706

Tel: (520) 295-4300 Fax: (520) 741-4598

E-Mail: mbodinc@cdtechno.com


Local US technical contact:

Lynn Dismuke, C&D Technologies, Inc.,

Tel: (919) 573 6158 Fax: (919) 573 6067

E-Mail: Idismuke@cdtechno.com


Contact details for publication:

C&D Technologies, Inc.,

3400 E. Britannia Drive, Suite 122, Tucson, Arizona, 85706

Tel: (520) 295-4300 Fax: (520) 741-4598

Product URL: www.dc-dc.com

Corporate URL: www.cdtechno.com

e-mail: sales@cdtechno.com


Issued by:

Simon Flatt, Pinnacle Marketing Communications Ltd

Tel: +44 (0) 20 8869 9229 Fax: +44 (0) 20 8868 4373

e-mail: simon@pinnacle-marketing.com

More from Fluid & Gas Flow Equipment