Inductive Rotary Encoders offer alternative to resolvers.
Press Release Summary: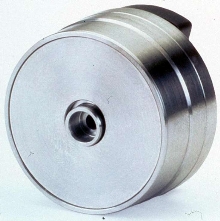 With ODs of 38 mm and lengths less than 28 mm, 16-bit ECI 1116 absolute singleturn encoder and 28-bit ECI 1128 absolute multiturn encoder feature EnDat interface and no integral bearing. Products are mechanically compatible with optical variant, proprietary ECN/EQN 1100 series. Motor non-drive end shield and electrical interface remain identical, regardless of choice of optical and inductive encoders; same applies to electronics and connecting cables.
---
Original Press Release:
Heidenhain Expands Low-Priced Rotary Encoders Series and Increases Alternatives to Resolvers

SCHAUMBURG, IL - (February 2005) - With HEIDENHAIN Corporation's expansion of their economically-priced inductive rotary encoders series - the ECI/EQI 1100 Series --, more alternatives than ever are available for those using small servo drives and general applications with lower accuracy requirements. Common applications are in drive technology, robotics and general automation technology. Most recently, these applications were mainly satisfied with resolvers.

Resolvers are known for their robustness, but they cannot fulfill the demands of drive technology for simpler commissioning, an electronic ID label and diagnostic functions. HEIDENHAIN's newest inductive rotary encoders, on the other hand, with their inductive scanning principle and well-known EnDat interface, fulfill exactly these requirements, and are even superior to resolvers in terms of positioning accuracy, speed stability and control dynamics. Also the competitive pricing makes them a welcome alternative to resolvers.

These newest of rotary encoders without integral bearing are even smaller in size than HEIDENHAIN's past offerings in this arena. Now, the outside diameters of them are 38 mm; their length is less than 28 mm. The new HEIDENHAIN models are the ECI 1116 (an absolute singleturn encoder with a resolution of 16-bit) and the ECI 1128 encoder (an absolute multiturn which counts in 28-bit). The mounting of these encoders has been simplified as well.

These ECI/EQI rotary encoders are mechanically compatible with the optical variant, HEIDENHAIN's seasoned ECN/EQN 1100 series. The motor non-drive end shield and the electrical interface remain identical regardless of the choice between optical and inductive encoders, meaning that with them, the motor manufacturer can produce a large number of identical parts increasing overall production and lowering production prices. The same also applies to the subsequent electronics and connecting cables.

For more information, contact HEIDENHAIN at (847) 490-1191, or write to us at HEIDENHAIN CORPORATION, 333 E. State Parkway, Schaumburg, IL 60173. HEIDENHAIN can also be accessed directly via our web site at www.heidenhain.com or e-mail at info@heidenhain.com.

HEIDENHAIN CORPORATION is the North American subsidiary of DR. JOHANNES HEIDENHAIN GmbH, a leading international manufacturer of precision measurement and control equipment. Our product line includes linear scales, rotary and angular encoders, digital readouts, digital length gages, CNC controls and machine inspection equipment.
More from Electronic Components & Devices