Induction Seals offer low peel force for convenience.
Press Release Summary: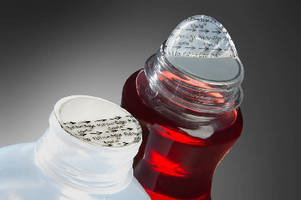 With tamper-evident design, EdgePull™ Induction Seals provide food, beverage, pharmaceutical, nutraceutical, health/beauty aids, and personal care products with protection and easy-opening functionality. Seals peel cleanly so no adhesive residue/strings contaminate contents after opening. Typically used with closures ranging from 28–63 mm, seals have pull tab designed to resist delamination from rest of structure when removed by consumers. Arrows indicate which direction to pull for removal.
---
Original Press Release:

Tekni-Plex Introduces EdgePull Induction Seals with Lower Peel Force for Consumer Convenience



Wayne, Penn. — A new tamper-evident, induction seal liner line, available globally, has been developed to provide food, beverage, pharmaceutical, nutraceutical, health and beauty aids and personal care products with protection and easy-opening functionality advantages.



EdgePull™ induction seals from Tri-Seal, a division of Tekni-Plex, Inc., require low peel force to remove. The seals also peel cleanly, which means no adhesive residue/strings to contaminate the contents after opening.



Further, the pull tab is designed with enhanced strength to resist delamination from the rest of the structure when removed by consumers. The liners are typically used with closures ranging from 28 to 63 mm and are ideal for a wide range of narrow- and wide-mouthed containers that benefit from a tamper-evident device.



"Customers will benefit from the excellent product performance characteristics of EdgePullTM liners. The structural enhancements will make it easier for consumers to access a wide variety of beverage and food products," said David Andrulonis, vice president and general manager.



EdgePull™ PPE has been engineered for use with polyethylene (PE) and polypropylene (PP) containers typically used for dairy, nutraceuticals and other liquids. EdgePull™ Universal targets packaging operations that use multiple bottle types (PE, PP, polyvinyl chloride, polyethylene terephthalate) and desire one liner material that can be used across all product applications to better manage inventory and cost.



Both induction seal materials feature a multilayer structure, including a proprietary heat-seal formulation for optimum performance. The induction seal pull tab also is printed with arrows indicating to the consumer in which direction to pull to facilitate an easy removal.



About Tri-Seal

For more than 50 years, Tri-Seal has been an innovator in extrusion and lamination technologies for food, beverage, pharmaceutical, cosmetic, household and industrial packaging and sealing applications. The company manufactures liners in a variety of materials ranging from nine-layer coextrusions or laminations to a one-piece induction seal. For more information visit www.tri-seal.com.



About Tekni-Plex, Inc.

Tekni-Plex is a globally-integrated company focused on developing and manufacturing innovative packaging materials and precision-crafted tubing solutions for some of the most well-known names in the healthcare, food and beverage, consumer and specialty-product markets. Tekni-Plex is headquartered in Wayne, Penn. and operates more than 25 sites, strategically located across four continents, to ensure it can meet the needs of its global customers. For more information visit www.tekni-plex.com.



Sales inquiries:

David Andrulonis

Tekni-Films

phone: 419-491-2402

email: FilmsNorthAmer@tekni-plex.com

www.tekni-films.com







More from Machinery & Machining Tools