Induction Melting of Platinum at Over 3200°F (1768°C) Demonstrated by UltraFlex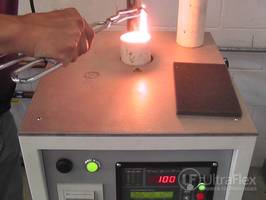 [May 19, 2020] The process of induction melting of platinum has recently been demonstrated by UltraFlex Power Technologies. The company - a leading provider of customer-focused solutions and equipment for induction heating, melting, and casting applications - set up this application test to determine the heating parameters for effective melting of a metal that is quite challenging to melt.
Platinum requires high melting temperature and heating results were expected to be different depending on the quantities melted. Hence, UltraFlex engineers set up a number of heating tests using different quantities of platinum, in increments of 50g - from 50g to 250g - concluding that successful platinum melting was optimized at approximately 250g. Test had been done with both scrap Platinum and solid Platinum.
UltraMelt 5P induction heating equipment had been identified as most appropriate for this induction melting. UltraMelt Induction Melting Systems are reliable and durable induction melting furnaces perfect for any precious or non-precious metals and alloys. They ensure fast induction melting using advanced circuit with low energy consumption.
At target temperature of over 3200°F (1768°C) and power output of 3.9 – 4.8 kW for the scrap metal and 3.1 – 4 kW for the solid metal, it took a little more than 4 minutes for the metal to get completely melted, with the time being slightly more for the scrap Platinum. To minimize heat loss, a lid was used during the melting.
This induction melting test application by UltraFlex proved that induction heating is energy-, time- and cost-efficient even for melting metals that are traditionally difficult to melt. It also showed that the induction heating parameters could be easily optimized within only a handful of tests, to achieve the heating setup that produces best results for the goals set.
Even in this challenging induction melting scenario, the entire heating process was easy to set up and complete, as well as completely safe for the operator. Due to the lack of open flame and smoke, it was also an entirely green process, with no waste heat or noxious emissions.
Find out more at: https://ultraflexpower.com/
Contact us at:
+1.631.467.6814
uptnews@ultraflexpower.com
About UltraFlex Power Technologies:
UltraFlex Power Technologies (ultraflexpower.com) offers the most advanced and innovative digitally controlled induction heating equipment in the industry. Its compact modular and flexible systems are suitable for a wide variety of induction heating, casting and melting applications.
More from Services