Induction Heating Machines have completely air-cooled design.
Press Release Summary: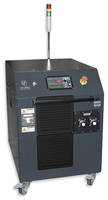 Comprising 3 air-cooled induction heating generators ranging from 8–25 kW, M/Air series is suited for weld preheating and stress relieving. Machines can be used with either dry or water-cooled cables and deliver consistent and repeatable heating. Built-in temperature controller with thermocouple input accommodates multiple user programs with programmable steps and also has inputs for external control. Portable units can also be used with water-cooled flexible cables.
---
Original Press Release:

New 8 to 25 kW Air Cooled Induction Heating Machine for Weld Preheating and Stress Relieving



Intro:

Induction heating has been used for decades as quick, energy efficient and controllable way to induce heat in metal parts and components. This method is a newcomer in the industrial and construction applications involving welding. Many companies with welding-intensive operations are now considering the benefits of induction heating for welding preheating and stress relieving (post heating) as an alternative to gas or flame heating.



The new M/Air series is designed to be a budget-friendly, air-cooled induction heating generator for weld preheating and stress relieving. The machines in the series can be used with either dry or water-cooled cables



Details:

The news series builds on our extensive induction heating expertise and delivers consistent, repeatable and efficient heating. It gives users the benefits of induction heating for a wide range of small to large parts. The new series is completely air-cooled. The compact design and the lack of water cooling system makes them portable and mobile, suitable for moving around the work area. The machines can also be used with water-cooled flexible cables for more demanding or higher temperature applications.



In addition, the series features a built-in temperature controller with a thermocouple input, accommodates multiple user programs with programmable steps, and also has inputs for external control.



The series consists of three products, ranging from 8 kW to 25 kW.



About Ultraflex Power Technologies:

Ultraflex Power Technologies is devoted to the design and manufacturing of efficient induction heating products used in a range of applications.



Contact Details:

sales@ultraflexpower.com

Tel: 6314676814

Twitter; FB; G+;YT

Related