Indoor/Outdoor Low Profile Cover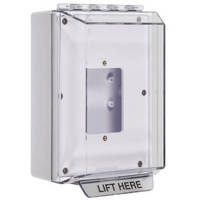 The Universal Stopper® Low Profile (STI-14500NW) cover has a flat profile, enclosed back box and open mounting plate. It offers excellent protection against physical damage (both accidental and intentional), dust and grime as well as severe environments inside and out (Type rating pending).



This indoor/outdoor cover helps protect devices such as dual action pull stations, keypads for entry systems, intercom stations, emergency buttons, electrical light switches, duplex plugs, etc. Other mounting options include a flush mount cover or a waterproof Type 4X enclosed back box (Type rating pending). The Universal Stopper is designed to comply with ADA and is less than 4 inches in depth.



It offers a three year guarantee against breakage of polycarbonate in normal use. ADA Compliant.



To order or for more sales information on the STI Universal Stopper (STI-14500NW), call 800-888-4784, fax 248-673-1246, email info@sti-usa.com or visit www.sti-usa.com.



STI's address is: 2306 Airport Road, Waterford, MI 48327-1209.



More from Safety & Security Equipment