Indoor Fire Alarm does not require breaking glass pane.
Press Release Summary: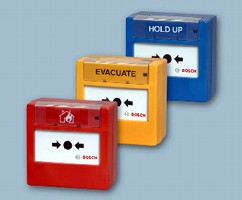 Offering plug-and-play installation through cable jack connection, resettable Manual Call Point reacts with mechanical activation that gives clear feedback when frangible element is triggered. Unit can be reset using key, which is inserted in slot under hinged maintenance flap, so it can be ready for use after activation without need to replace glass pane. Consuming 0.4 mA over 15-33 Vdc voltage range, MCP is offered in red, blue, or yellow for FIRE, EVACUATE, or HOLD UP.
---
Original Press Release:

Bosch Introduces Resettable Manual Call Point Choice of Colors for Broad Range of Applications



o Easy key-operated reset eliminates replacement of breakable element
o Compatible with Bosch's Local SecurityNetwork bus system
o 'Plug-and-Play' installation and exchange through cable jack connection

Bosch Security Systems has introduced an indoor fire alarm Manual Call Point (MCP) that does not require the breaking of a glass pane to be activated. When the frangible element is triggered, the MCP reacts with a distinct mechanical activation that gives a clear feedback. The activation is heard, felt and seen (LED), thus leaving the user without a doubt that the action has been accomplished. The unit can be easily reset using a key, which is inserted in a slot under the hinged maintenance flap at the top of the unit. This means that the MCP can quickly be made ready for use after activation and without the need to replace a glass pane. The same key is used for opening the tamper-free maintenance panel and for functional testing. Cable jack connection at the rear of the unit allows quick installation or replacement, which provides time and cost savings.

The MCP is designed for conventional use or with Bosch's Local SecurityNetwork (LSN), a scalable and freely configurable bus system for secure and flexible connection of fire and intrusion devices. The LSN version can be configured in a choice of LSN operating modes, including loop, stub, T-tap or a combination of any of the three. This is achieved through a DIP-switch block inside the unit that also allows selection of automatic or manual addressing. When using the LSN version, up to 254 elements can be connected per loop and without the need for additional components.

The units are available in three colors - red for fire alarm, and blue or yellow for other applications such as 'EVACUATE' or 'HOLD UP' (as in a bank). The application is shown on a symbol or text card inserted under the transparent maintenance flap.
Preprinted text cards of the most frequently used applications, and in a choice of different languages, can be downloaded from Bosch's website, thus saving the customer design time and cost.

An LED, indicates when the MCP is triggered through pressing on the glass pane. All versions conform to the EN54-11 European Standard. Low current consumption of 0,4mA is ensured over the whole voltage range from 15V DC to 33 V DC.). Bosch's robust alarm mechanism is designed to ensure extreme reliability for a long operating life with frequent usage. Accessories, such as bezels and spacers, are provided to adapt to different mounting conditions. Conventional (non-LSN) versions are available with customized branding for OEM customers.

The Bosch Group is a leading global supplier of technology and services. In the areas of automotive and industrial technology, consumer goods, and building technology, some 260,000 associates generated sales of 43.7 billion euros in fiscal 2006. The Bosch Group comprises Robert Bosch GmbH and its roughly 300 subsidiary and regional companies in over 50 countries. This worldwide development, manufacturing, and sales network is the foundation for further growth. Bosch spends more than three billion euros each year for research and development, and in 2006 applied for over 3,000 patents worldwide. The company was set up in Stuttgart in 1886 by Robert Bosch (1861-1942) as "Workshop for Precision Mechanics and Electrical Engineering."

The special ownership structure of Robert Bosch GmbH guarantees the entrepreneurial freedom of the Bosch Group, making it possible for the company to plan over the long term and to undertake significant up-front investments in the safeguarding of its future. Ninety-two percent of the share capital of Robert Bosch GmbH is held by Robert Bosch Stiftung GmbH, a charitable foundation. The majority of voting rights are held by Robert Bosch Industrietreuhand KG, an industrial trust. The entrepreneurial ownership functions are carried out by the trust. The remaining shares are held by the Bosch family and by Robert Bosch GmbH.

Additional information can be accessed at www.bosch.com.

More from Electronic Components & Devices