Indium Corporation to Discuss Low-Voiding Options at SMTA Rocky Mountain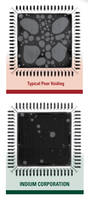 Indium Corporation will feature its void-reducing solder pastes at the SMTA Rocky Mountain Expo & Technical Conference on Jan. 19 in Denver, Colo.
Indium Corporation's Indium8.9HF and Indium10.1 Solder Pastes:
Are designed to provide ultra-low voiding
Offer great print capabilities for small and low profile components
Are designed to overcome head-in-pillow (HIP)
Have excellent shelf and stencil life
"These industry-proven products satisfy a wide range of critical engineering requirements, as opposed to the single-purpose solutions you see on the market," said Pat Ryan, America's Sales Manager.
Indium Corporation is a premier materials manufacturer and supplier to the global electronics, semiconductor, thin-film, and thermal management markets. Products include solders and fluxes; brazes; thermal interface materials; sputtering targets; indium, gallium, germanium, and tin metals and inorganic compounds; and NanoFoil®. Founded in 1934, Indium has global technical support and factories located in China, Malaysia, Singapore, South Korea, the United Kingdom, and the USA.
For more information about Indium Corporation, visit www.indium.com or email abrown@indium.com.
Contact:
Anita Brown,
Corporate Communications
Indium Corporation
tel: +1.315.381.7524
34 Robinson Road
Clinton, NY 13323
USA
Contact This Company Download Spec Sheet
More from Materials