Indicators eliminate cartridge change schedules.
Press Release Summary: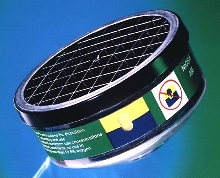 REAL-TIME ESLIs(TM) (End-of-Service-Life Indicators) are suited for use in air-purifying gas and vapor cartridges. They provide immediate, visible evidence of cartridge-adsorbent expenditure. Available respirators with REAL-TIME ESLIs include ammonia, hydrogen chloride, hydrogen sulfide, sulfur dioxide, and hydrogen fluoride. ESLI equipped respirators offer ratchet system for forming seals between cartridges and face pieces.
---
Original Press Release:

NORTH SAFETY DEVELOPS INDUSTRY'S FIRST REAL-TIME END-OF-SERVICE-LIFE INDICATORS FOR AIR-PURIFYING RESPIRATORS


CRANSTON, R.I. (March 11, 2002) - North Safety Products has introduced a series of air-purifying gas and vapor cartridges incorporating the industry's first REAL-TIME ESLI(TM) (End-of-Service-Life Indicators) for gases or vapors. The REAL-TIME ESLIs provide immediate, visible evidence of the extent of cartridge-adsorbent expenditure and could eliminate the need for employers to establish cartridge change schedules.

The ESLIs are the first to be placed inside air-purifying cartridges that protect users against hazardous industrial chemical gases and vapors in non-IDLH (non-immediately dangerous to life or health) atmospheres. North Safety respirators with REAL-TIME ESLIs that are immediately available, include those for ammonia and for certain acid gases, specifically for hydrogen chloride, hydrogen sulfide, sulfur dioxide and hydrogen fluoride. ESLIs to protect against additional chemicals are under development, and are expected to reduce the requirement, in certain instances, for supplied-air respirators.

Driven by the 1998 changes in OSHA regulations on respiratory protection (29 CFR 1910.134), the development of REAL-TIME ESLIs marks a basic change within the safety industry that provides significant benefits to users.

"Real-time ESLIs should put both employees and employers at ease, since they ensure that the remaining useful service life in an individual cartridge can be monitored," said Sid Ellis, president of North Safety Products. "They also take the guesswork out of calculating cartridge service life and administrating cartridge change schedules, and they ensure that cartridges will not be prematurely discarded."

Change schedules are less accurate ways to determine cartridge change times because the schedules are based on complicated calculations involving workplace variables such as chemical concentrations, environmental factors or the users' breathing rates. They include wide safety margins, but still cannot anticipate unusually extreme situations.

In addition to providing visible indication of the real-time life of cartridge media, the North Safety REAL-TIME ESLI equipped respirators feature an innovative ratchet system for forming an effective seal between the cartridge and face piece. "The ratchet system enables the user to avoid over-tightening or under-tightening our screw-on cartridges," Ellis said.

North Safety's half and full facepiece respirators equipped with REAL-TIME ESLI cartridges, for protection against ammonia or against hydrochloric acid, hydrogen sulfide, sulfur dioxide and hydrogen fluoride are approved by the NIOSH (National Institute for Occupational Safety and Health). For more information, contact North Safety Products Customer Service at 800-430-4110 (888-212-7233 in Canada) or visit the company's Web site at www.northsafety.com.

About North Safety Products
North Safety Products, one of the world's largest manufacturers of occupational health and safety products, offers a full range of quality personal protection equipment, including head, hearing, eye/face, respiratory, hand and fall protection, lockout/tagout, protective footwear and clothing, first aid, controlled environment, safety signage and traffic safety products.

More from Agricultural & Farming Products