Indicator Lights provide multiple status colors.
Press Release Summary: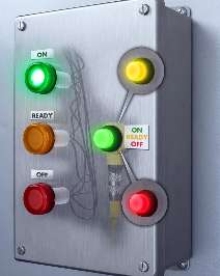 EZ-LIGHTs(TM) feature solid or flashing lights that indicate status of machine or process. Sealed and IP67-rated, units are water- and oil-tight with solid-state design that has no bulbs to replace. Configurations include general-purpose red/yellow/green, multicolor 7-function with pre-configured flashing sequences, and remote indicator for EZ-SCREEN® safety light curtain status. All are compatible with PLC or other logic-level control outputs.
---
Original Press Release:

Smart Indicator Light Delivers Multiple Status Colors In A Single Sealed Housing


Minneapolis, MN-July 20, 2005-Banner Engineering Corp. has introduced its patent-pending EZ-LIGHT(TM) smart indicator lights. These water- and oil-tight sealed units have colored lights-either solid or flashing-that indicate the status of a machine or process. The EZ-LIGHT was developed to replace panel indicators and post and stack lights with a single, compact unit that is sealed and IP67 rated. It features a rugged, solid-state design with no bulbs to burn out or replace.

EZ-LIGHT is currently available in three configurations to perform in a variety of applications:

3-color general purpose (red/yellow/green or custom colors)

Multicolor 7-function featuring enhanced indication capabilities and flashing rates

A style that acts as a large remote indicator for EZ-SCREEN® safety light curtain status

Industry-standard housing styles include an in-line 18 mm barrel, right-angle 18 mm T-style and right-angle 30 mm T-style that are compatible with the widest range of mounting hardware common to industrial automation applications. With EZ-LIGHT's compact, unobtrusive size and mounting flexibility, it is easier than ever to install indicator lights and locate them near the equipment operator.

Adding to the flexibility of the EZ-LIGHT are its Euro-style quick-disconnect connector options. "With no messy soldering, incorporating an EZ-LIGHT into an application is as easy as plugging in a sensor," said Chris Dales, Banner Product Design Specialist. "Additionally, multiple threaded mounting sizes make EZ-LIGHTs possibly the easiest to use indicator light available on the market today."

Applications. With their compact size, rugged sealed construction, indication flexibility and easy installation, EZ-LIGHT smart indicator lights are ideal for nearly any process or machinery status application. Example applications include the following:

Indicating machine or process status modes including RUN, STOP, RESET, ALERT, READY, WARNING, HIGH, LOW, EMPTY and many more

Indicating PASS and FAIL for part manufacturing or process monitoring

Providing visual illumination for pick-to-light and bin assembly

Providing larger, operator-friendly safety indications on machinery

Specifications and Features. Rugged and compact EZ-LIGHT models are rated IP67, oil- and water-tight with Euro-style QD connectors that require no soldering. All models are compatible with PLC or other logic-level control outputs. Easy-to-install mounting brackets are available along with a number of quick-disconnect QD cable lengths.

EZ-LIGHT 3-color general purpose models feature red/yellow/green multifunction display standard with optional custom LED colors. Available in nickel-plated brass 18 mm barrels or thermoplastic 18 and 30 mm T-style right-angle models. 10-30V dc general purpose EZ-LIGHTs are available to receive NPN or PNP inputs depending on model.

EZ-LIGHT 7-function models offer the ability to illuminate in multiple colors and feature preconfigured flashing sequences. Available in nickel-plated brass 18 mm barrels or thermoplastic 30 mm T-style right-angle configurations. 10-30V dc 7-function EZ-LIGHTs require a PNP input.

EZ-LIGHT for EZ-SCREEN provides a large, remotely located red/green indicator for use with EZ-SCREEN safety light screens. Available in nickel-plated brass 18 mm barrels or thermoplastic 18 and 30 mm T-style right-angle models. EZ-LIGHTs for EZ-SCREEN are designed to interface directly with an existing EZ-SCREEN system through the use of an 8-pin "Y" splitter cable.

About Banner. Banner Engineering is the world's leading manufacturer of electronic machine guarding systems, photoelectric and ultrasonic sensors, fiber optic assemblies, vision sensors and precision measurement systems.

For further information, contact Banner Engineering Corp., 9714 Tenth Avenue North, Minneapolis, MN 55441. PH: 888-373-6767 (Toll-free North America), or 001-763-544-3164 (International). FAX: 763-544-3213. Email: sensors@bannerengineering.com. E-commerce: buybanneronline.com Web: www.bannerengineering.com

Direct link to product info at: bannerengineering.com/ez-light

More from Mechanical Components and Assemblies