Indiana University Memorial Stadium Sprints Toward Cost Effective Railing System from Hollaender Manufacturing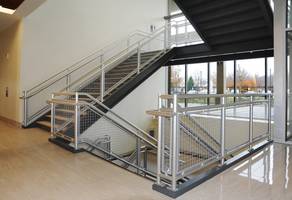 CINCINNATI, OH (February 27, 2019) – Indiana University's Memorial Stadium recently upgraded the facility's railing system. It was due for a redesign, and the work was contracted to RATIO, an international, multidisciplinary architectural practice of thought leaders, designers, and planners; and SmithGroup, one of the world's preeminent integrated design firms.
The overall design concept was complex, calling for both shoe mounted and post mounted glass railing as well as wire mesh infill panels. While the original design called for a series of custom post shapes that were unique, they were simply more expensive than the budget would allow.
Working with specialty contractor Spohn Associates of Indianapolis, the architects were presented with several cost-effective alternatives but ultimately opted for Interna-Rail® and VISION™ "customizable standard" aluminum railing systems from Cincinnati-based Hollaender Manufacturing. The common thread between the original design and the Hollaender solution was in the material and construction. Hollaender's non-welded mechanical aluminum design fulfilled all design and functionality requirements.
Hollaender's Interna-Rail handrail are sleek, strong and durable. In-line fittings make this aluminum handrail system easy-to-install and produce a striking architectural appearance. Panel clips that are attached top and bottom allow for wider post spacings, and a more cost effective ( lower cost per foot) railing system. This also allows architects to make their chosen panel design the focal point of the installation.
Hollaender's VISION AL is an aluminum railing system designed with post mounted "in-line" panel clips that support the infill panel. Although the standard infill is glass, stainless steel and acrylic can be accommodated.
For more information on Hollaender's complete line of solutions, visit www.Hollaender.com.
About Hollaender Manufacturing
Hollaender is a manufacturer and marketer of both components and engineered railing systems.
In components, Hollaender is the market leader in aluminum structural pipe fittings as well as structures that incorporate these fittings with pipe.
In engineered railing systems, often called "Decorative Metal Railing Systems," the Cincinnati-based company is a leader in aluminum, stainless steel, and structural glass railing systems.
Hollaender components are used in the design and build of handrail, guardrail, and safety rail systems, retail store fixtures, as well as a wide variety of unique modular pipe and fitting based structures for commercial, residential, public works, and industrial applications. These components and systems are marketed under the trademarked brands Speed-Rail®, Interna-Rail®, Bumble-Bee®, Newman by Hollaender™, and Interna-Light™. Hollaender also offers consultation, design, and project management services. 
Hollaender Manufacturing
P.O. Box 156399
10285 Wayne Ave.
Cincinnati, OH 45215-6399
1-800-772-8800
Fax: (513) 772-8806
www.hollaender.com
Contacts:
Client:
Leah Weller
 Marketing Coordinator
Hollaender® Manufacturing Company
leahw@hollaender.com
(513) 772-8800, Ext 123
Agency:
Jeffry Caudill
President
Gingerquill, Inc. 
jcaudill@gingerquill.com
(513) 448-1140
Contact This Company Download Spec Sheet
More from Architectural & Civil Engineering Products