Indexing Blast System has compact design.
Press Release Summary: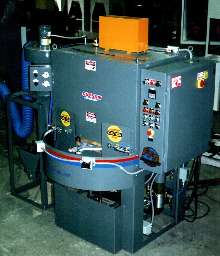 RX-800 automatic blast machine has overall dimensions of 50 x 64 in. Product has 4 component-holding fixtures equally spaced around perimeter of its 36 in. dia indexing table. Interior of cabinet, divided into 3 separate chambers, isolates automated blasting process as parts move from load/unload station through impact treatment and blow-off. Machine utilizes any blast media suited for recirculating cabinet systems.
---
Original Press Release:
Compact Indexing Blast System

August 26, 2003 - Saratoga Springs, NY - Guyson Corporation has added a more compact automatic blast machine to its line-up of rotary indexing table models. The RX-800 is intended to offer the advantages of rapid, accurate processing in a blast system with a small footprint.

In the indexing table system, a custom-designed fixture holds the component in exactly the right orientation for presentation to the blast from one or more nozzles that are pre-positioned for coverage of specific areas of the part's surface. This mode of processing is especially well suited for applications such as deburring, deflashing, etching and surface preparation, where selective blasting, pinpoint accuracy and consistent repeatability may be required.

With overall machine dimensions of 50" x 64" (1.3 m x 1.6 m), the RX-800 has four component-holding fixtures equally spaced around the perimeter of its 36" diameter indexing table. The interior of the cabinet is divided into three separate chambers to isolate the automated blasting process as parts move from the load/unload station through impact treatment and blow-off. The manufacturer emphasizes that its use of a rugged, high quality cam indexer not only ensures precise blasting, but also enables an easy interface with a loading robot or pick-and-place device.

The automated blast machine can utilize any type of blast media suitable for recirculating cabinet systems, and the equipment builder offers a variety of abrasion protection features aggressive shot or grit will be used. Each RX-800 is matched with a high performance cyclone separator and media reclaimer having adequate capacity for the number of blast guns. An installation is completed by an efficient cartridge-type dust collector.

Electronic sensor options monitor system functions to enhance process control and provide feedback to help maintain uninterrupted zero-defect operation. Conditions such as low air supply pressure, low media level, insufficient air flow to the reclamation system, and other faults which could cause variation in the expected quality of results, can be programmed to trigger an alarm or automatic system shut-down.

Prospective users of manual or automated blast systems are encouraged to submit sample components for free testing in the equipment manufacturer's application engineering laboratory at their northeastern New York, factory.

CONTACT FOR MORE DATA:

C. Carson

Guyson Corporation

Tel: 518-587-7894, ext. 226

jccarson@guyson.com
More from Electrical Equipment & Systems