Servo Motor Controllers and Drives
Indexer Servo Drives offer 32 motion profiles.
Press Release Summary: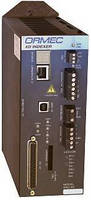 Allowing users to specify motion control parameters, XD-Series Indexer Servo Drives also enable individual motion profiles to be mapped to I/O points, with 1 or 2 functions/point, initiated via Modbus/TCP, and chained or looped together. Adaptable I/O includes 14 inputs and 8 outputs. Communication setup is accomplished via USB or Ethernet, while included software offers load-and-go application templates to simplify motor setup. Devices are available with 115, 230, and 460 Vac input power.
---
Original Press Release:

ORMEC New XD-Series Indexer Servo Drives Offer 32 Unique Motion Profiles, Simplified Setup, and Software Tools



Built-in Motor Wizard Works with Most Any Servo Motor for Easy Integration

Rochester, New York, USA - ORMEC Systems Corporation (www.ormec.com) (ORMEC) has announced the global launch of the XD-Series, a new family of Indexer Servo Drives, providing high-reliability motion control capabilities for even the most challenging applications. The unique features of the XD-Series are built upon proven success of ORMEC's high performance, networked, multi-axis integrated motion controllers, of which thousands have been successfully installed in the field. Product philosophy behind the XD-Series centers on the critical importance of understanding application requirements and the ability to specify parameters, to achieve optimal motion control performance.

The XD-Series allows programming of 32 individual motion profiles, which can be mapped to I/O points, 1 or 2 functions per point, initiated via Modbus/TCP, and chained or looped together. The adaptable I/O, with 14 inputs and 8 outputs, can be mapped to change from position, velocity or torque modes during program execution. Motion can be synchronized with supported machine I/O, allowing for start, stop or trigger speed changes, with inputs at any point in the chain, and user-defined units for axis position speed and acceleration, further simplifying implementation. By employing an HMI or optional Fieldbus communication, the XD-Series allows motion parameter adjustments, remote commanded motion and real-time indexer status read capabilities. Communication setup may be accomplished via USB or Ethernet connections, with Modbus/TCP, Ethernet/IP, CANopen and Profibus-DP options. The XD-Series is available in 115, 230 and 460 VAC input power, with 3 to 60 amp continuous current ratings.

In addition, the XD-Series features a built-in Motor Wizard, which simplifies non-standard motor integration and enables users to quickly commission unproven motors. Once the program and motor data are loaded onto the indexer, configuration data is stored both in the indexer and on a removable memory card, greatly simplifying software transfer, duplication requirements, and hardware replacement needs. Software includes extensive support for monitoring and optimizing an application, allowing the application program to be quickly honed to perfection. ORMEC's software tools can reduce conventional setup efforts, from what typically was days, to a matter of minutes, with the supplied pre-defined "load and go" application templates. The versatility and high-performance design of the XD-Series make it uniquely capable of handling a wide range of motion control applications, including Intelligent Conveyor Control, Pick and Place, Labeling, Flying Shear, Rotary Knives, Scanning, High Speed Printing, Part Storage and Retrieval, and many others. In addition, the unique built-in features of the XD-Series allow it to support otherwise difficult application requirements, such as Tension Control, Dual Loop Feedback, Registration, Gearing and others.

ORMEC is also offering Free Applications Development Assistance on any XD-Series Indexer purchased before April 2010. Visit www.ormec.com/indexerpromo.aspx, and enter code XD011310PR to register. For more information on the XD-Series, contact ORMEC toll-free at 1-800-656-7632, 585-385-3520 (global), email at sales@ormec.com, or visit www.ormec.com.

About ORMEC Systems Corporation:

Based in Rochester, New York, USA, ORMEC is a leading provider of high reliability motion control and networked servo drives. The company manufactures motion controllers, logic control, drives, servomotors and FireWire-based networking into cost effective solutions. ORMEC provides application expertise and systems solutions to all types of motion control problems systems and offers a team of Systems and Applications Engineers with over 80 years of motion control experience. The company continues to be a leader in the development of motion control technology, including being the first to introduce an industrial motion control system using a high-speed FireWire network.

More from Non-Industrial Products