Indexable Inserts come with double positive macro-geometry.
Press Release Summary: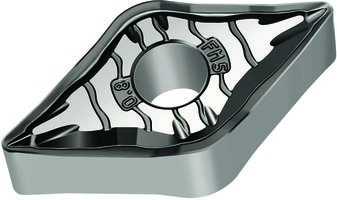 Walter's Indexable Inserts are available in WSM10S, WSM20S and WSM30S models with PVD Al2O3 grading and WMP20S model with CVD grade. Units feature Walter's Tiger·tec® Silver coating and RM5 and FM5 geometries. Inserts with jet guiding geometry maximizes cooling effect and are used in standard ISO turning toolholders.
---
Original Press Release:
New Indexable Inserts from Walter with Coolant Channel Geometry Boost Machining
New Walter inserts with "jet guiding geometry" improve cooling, tool life, and productivity.
Walter's new FM5 finishing and RM5 roughing indexable insert geometries deliver optimal cooling, longer tool life, and increased productivity in high-temperature alloy and stainless-steel machining. The new inserts owe their superior effectiveness, in part, to their "jet guiding geometry," or targeted cooling. Because of special channels pressed in the rake face, the coolant reaches the cutting edge directly, underneath the chip. This targeted cooling maximizes the cooling effect and increases tool life. Chip breaking, too, is optimized. This results in increased productivity and improved workpiece surfaces.
These new indexable inserts feature Walter's Tiger·tec® Silver coating with PVD Al2O3 heat shield for maximum tool life. Specifically, three grades feature PVD Al2O3 (WSM10S, WSM20S, WSM30S) and one features CVD (WMP20S).
The design of the cutting edges is also new: Their double positive macro-geometry reduces notch formation and crater wear. Both the RM5 and FM5 geometries achieve their best results in Walter toolholders with integrated precision cooling, as they were designed specifically for these coolant channel geometries. These inserts, with jet guiding geometry can also be used with standard ISO turning toolholders.
Walter, a global leader in the metalworking industry with over 90 years of experience in precision cutting tools for milling, drilling, turning, boring and specialized tools, helps customers improve process reliability and increase productivity. With Regional Headquarters in Waukesha, WI, Walter markets its competence brands Walter Valenite, Walter Titex, Walter Prototyp and Walter Multiply through a strong network of distributors and field engineers across subsidiaries in the USA, Canada, Mexico, Brazil and Argentina.
Contact:
Walter USA, LLC
N22 W23855 Ridgeview Pkwy West
Waukesha, WI 53188
800.945.5554
More from Architectural & Civil Engineering Products