Indexable Inserts are optimized for grooving, cutoff jobs.
Press Release Summary: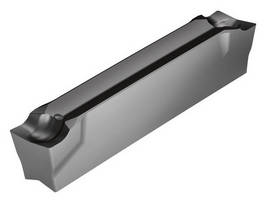 Indexable grooving and cutoff inserts are available with Tigerotec® Silver PVD aluminum oxide coating, which offers high-temperature wear resistance to promote tool life. Optimized surface structure lowers friction on cutting surface; sharp, defined cutting edges can be achieved due to coating's thinness; and smooth surface helps prevent build-up on cutting edge while promoting process reliability. Four grades - WSM13S, WSM23S, WSM33S, and WSM43S - accommodate range of applications.
---
Original Press Release:

Walter USA Introduces Grooving and Cutoff Inserts with New Tigerotec® Silver PVD Coating



Tigerotec® Silver combines both high-temperature wear resistance and toughness in a single coating, permitting both greater tool life and higher cutting speeds.

Waukesha, WI - Walter USA, LLC has unveiled the first indexable inserts with the new Tigerotec® Silver PVD aluminum oxide coating. These indexable grooving and cutoff inserts deliver superior tool life and increased productivity thanks to the advanced properties of the new coating. These properties include increased high-temperature wear resistance with no compromise in toughness.

The combination of toughness and wear resistance is a plus in any application, but particularly in grooving and cutoff operations because the tools experience several different conditions within the cut. For example, at the beginning of the cut the tools are exposed to a large amount of coolant, with little or none later. Similarly, there is high speed early in the cut with low speed later, and there is low stress on the tool early on, with high stress at the end of the cut.

Because of its optimized surface structure Tigerotec Silver PVD lowers the friction on the cutting surface. Also, sharp and highly defined cutting edges can be achieved because the Tigerotec Silver PVD coatings are thinner than conventional coatings. This fact, as well as the particularly smooth surface help to prevent build-up on the cutting edge and provide a high level of process reliability.

This advanced new coating will be made available in four grades: WSM13S, WSM23S, WSM33S and WSM43S. The cutting material WSM13S is suitable for use in stable machining conditions due to its distinctive hardness. The cutting material WSM43S is aimed at unstable clamping arrangements and machining conditions, low cutting speeds and interrupted cuts due to its excellent toughness properties. The middle variants WSM23S and WSM33S cover the relatively large intermediate range. This gives users an optimum grooving solution for each material and each application, with excellent tool life and process reliability.

Walter USA, LLC offers an extensive line up of cutting tools for milling, drilling, turning, boring and specialized tooling for unique applications through its competence brands Walter Valenite, Walter Titex and Walter Prototyp. As well as multi-level service programs through its Walter Multiply brand. Headquartered in Waukesha, Wisconsin the company has a strong network of distributors and field engineers across North America. The Walter name is synonymous with productivity, thanks to more than 80 years of developing cutting tools and inserts that set new standards in production. Walter USA, LLC combines over 75 years of U.S.-based tooling production with long-standing traditions of quality and innovation.

For more information about Walter Tiger tec® Silver: Scan this QR code or go to http://goo.gl/VOEoy

More from Architectural & Civil Engineering Products