Indexable-Insert Cutters suit large spur and helical gears.
Press Release Summary: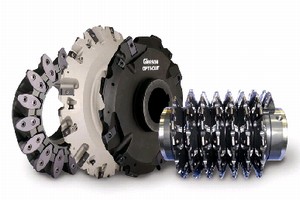 Employing carbide substrates and coatings, OPTI-CUT(TM) Series is designed for gear gashing, shaping, and hobbing. Wear is accommodated by indexing inserts to new cutting edge, with 4 edges available before insert needs to be replaced. For secure clamping, insert screw clamping system uses angled clamping screws rather than screws that clamp at right angles to insert. Cutters are suited for industries where large cylindrical gears are used including mining and power generation.
---
Original Press Release:

Gleason Introduces The Opti-Cut(TM) Family Of Indexable-Insert Cutters For Large Spur And Helical Gears



Rochester, New York, March 25, 2008-Gleason has introduced a new line of gear gashing, shaping and hobbing cutters that employ the latest in replaceable, indexable carbide insert technology to make significant improvements in the speed and efficiency of large spur and helical gear production.

The new OPTI-CUT(TM) series of cutters is one of the first in its size range - as large as Module 34 (50DP) -- to use indexable inserts with advanced carbide substrates and coatings to compete with the solid, high speed steel cutters normally used to rough and finish gash, hob or shape large cylindrical gears. With OPTI-CUT, large gear manufacturers now can operate their gear production machines at significantly higher feeds and speeds, and even cut dry, helping to reduce total cost per workpiece.

The use of OPTI-CUT also eliminates the time and expense associated with grinding/resharpening solid cutters as their cutting surfaces wear with repeated use. With OPTI-CUT, wear is accommodated quickly, easily and economically simply by indexing inserts to a new cutting edge - with four edges available before the insert needs to be replaced.

In addition, OPTI-CUT features a unique, patented insert screw clamping system that uses angled clamping screws rather than screws that clamp at right angles to the insert. As a result, longer screws can be used to more securely clamp the insert. Indexing can be done without cutter disassembly or special drivers because of better access.

The OPTI-CUT series is versatile too: a full range of gear gashing, hobbing and shaping products in a variety of cutter body sizes and insert types and geometries is available to meet many of the roughing and finishing, internal or external gear, module and profile requirements that exist in windpower, mining, power generation and many other industries where large cylindrical gears are used.

OPTI-CUT is just the latest addition to Gleason's line of gear cutting and finishing tooling, the broadest, most diverse line of products in the industry.

Gleason Corporation is a world leader in the development, manufacture and sale of gear production machinery and related equipment. The Company's products are used by customers in automotive, truck, aircraft, agriculture, construction, power tool and marine industries and by a diverse set of customers serving various industrial equipment markets. Gleason has manufacturing operations in Rochester, New York; Rockford, Illinois; Dayton, Ohio; Plymouth, England; Munich and Ludwigsburg, Germany; Bangalore; India, Studen, Switzerland; and Suzhou, China and has sales and service offices throughout the North and South America, Europe and in the Asia-Pacific region.

More information about Gleason Corporation is available on the World Wide Web at www.gleason.com.

More from Electrical Equipment & Systems