Indexable Insert Cartridges enhance face milling operations.
Press Release Summary: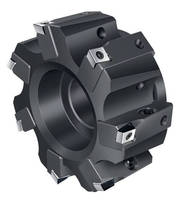 Offered in 2 geometries, FR751M and FR752M make performance of tangential indexable inserts available for adjustable face milling. Walter BLAXX shoulder mill, which produces precise, near step-free 90° shoulders, is available for tool diameters up to 6.30 in. When F2010 face mill is equipped with FR751M or FR752M cartridge, this technology can be applied up to diameters of 12.40 in. Also, F2010 can be used for fine finishing due to indexable inserts adjustable axially with micrometer precision.
---
Original Press Release:

Walter Augments F2010 Face Mill Productivity with the Performance and Versatility of Two New Insert Cartridges



The new Walter BLAXX FR751M and FR752M cartridges for Walter's popular F2010 face mill, make the performance of tangential indexable inserts available for adjustable face milling.



Waukesha, WI – Walter has introduced two new indexable insert cartridges for the Walter F2010 face mill. These new cartridges, the FR751M and FR752M, bring the flexibility and performance of Walter BLAXX tangential indexable inserts to the Walter F2010 face mill. The family of indexable milling tools, characterized by precision and reliability, includes shoulder, helical and slitting mills.



Thanks to the high level of accuracy of their precision ground inserts with their Tiger-tec-Silver® cutting material, together with high precision tool bodies, users of Walter BLAXX milling tools can achieve feed rate increases of up to 30% and often no longer require a separate finishing tool.



The FR751M and FR752M cartridges bring numerous benefits. For instance, the Walter BLAXX shoulder mill produces precise, almost step-free 90° shoulders. That system is only available for tool diameters up to 6.30 in. (160 mm). The F2010 face mill, equipped with the FR751M or FR752M cartridge, can now bring this technology up to a diameter of 12.40 in. (315 mm). In addition, the F2010 can now be used for fine finishing because the indexable inserts can be adjusted axially with micrometer precision.



These inserts come in two geometry variants: the L55T, a universal geometry that can be used on most materials, and the L85T, which has a particularly sharp cutting edge for machining aluminum.



Walter, a global leader in the metalworking industry with over 90 years of experience in precision cutting tools for milling, drilling, turning, boring and specialized tools, helps customers improve process reliability and increase productivity. With Regional Headquarters in Waukesha, WI, Walter markets its competence brands Walter Valenite, Walter Titex, Walter Prototyp and Walter Multiply through a strong network of distributors and field engineers across subsidiaries in the USA, Canada, Mexico, Brazil and Argentina.



www.walter-tools.com/us