Indeck Exhibits at Annual IDEA Campus Energy Conference, February 18-21, 2014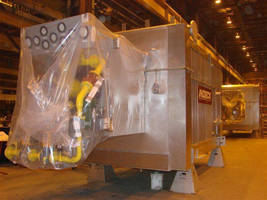 Showcasing International LaMont, Hot Water Generator for District Installations



Wheeling, IL — The Indeck Group of Companies is excited to be participating in the IDEA's Annual Campus Energy Conference  on February 18-21,2014.  The International District Energy Association's theme is "Clean, Efficient and Resilient Energy".  Indeck will be exhibiting at the Atlanta Marriott Marquis, Booth #2.



Indeck's unique hot water boiler also known as a High Temperature Hot Water Generator (HTHW) utilizes the IBW International-Lamont® design which has proven to be an efficient and reliable option for university district heating plants.  The IBW International-Lamont ® can be designed for capacities up to 200,000,000 BTU/hr and is the ideal solution for district plants.  Indeck's proprietary design minimizes stresses and fatigue failure caused by thermally induced stress cycling, even with large temperature differentials.  The IBW International-Lamont can produce hot water with large temperature differentials between supply and return.  These HTHW hot water boilers are often located in a central plant which then distributes energy throughout a city area or campus facilities.  

 

Indeck can build a hot water generator to suit to a plant's specific requirements.  Indeck engineers have worked with universities and municipalities throughout the United States and Canada to provide some of the most efficient high temp hot water production available.



Indeck also supplies water tube shop assembled or modular boilers consisting of D, O and A style furnace configurations in addition to biomass stoker fired boilers, heat recovery steam generators, waste heat boilers, rental boilers, aftermarket services and spare parts.  With the use of Indeck equipment in district heating and cooling projects, municipalities, universities, airports, government facilities and military bases can achieve optimal benefits:

 

*  Improved energy efficiency 

*  Enhanced environmental protection with emissions reduction.

*  Fuel options and flexibility to fire natural gas, oil and process gases

*  Ease of operation, low maintenance and reduced life cycle costs        

*  Less space utilized offering architectural design flexibility and building cost reductions



With office locations in both the United States and Canada, Indeck is equipped to handle the needs of district power plants in North America. For a list of reference projects please contact Indeck at 800-446-3325 or email phayes@indeck-power.com.



About Indeck

Indeck Power Equipment Company is the corporate headquarters of the Indeck Group of Companies, based just north of Chicago in Wheeling , Illinois.  The company designs and manufactures high quality power and steam generating equipment.  Indeck's Group of Companies includes Indeck Keystone Energy (engineering technology center in Erie, PA) and Indeck Boiler Company (manufacturing plant in Quebec, Canada).  To review district power and steam generating options contact Indeck at 800-446-3325, email or visit http://www.indeck.com.





More from HVAC