Incremental Encoder comes with or without center push switch.
Press Release Summary: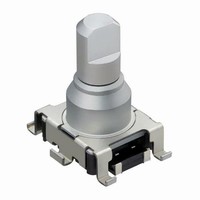 Suited for car audio and navigation systems, Series EC11J 11 mm sized incremental encoders feature resolution of either 18 detents and 9 pulses or 30 detents and 15 pulses per rotation, depending on model. Units offer bushing length of 5, 7, or 10 mm and push-pull-strength of 100 N. Optional SPST push-on switch is rated for switching currents of up to 1 mA at 5 Vdc, requires operating force of 5±2 N, and has 100 mW maximum initial contact resistance.
---
Original Press Release:

11mm Sized Incremental Encoder with/without Center-Push Switch and Long Operating Life



Ideal solution for car audio and navigation systems

Duesseldorf, Germany, November 21, 2007 - With the EC11J series, ALPS ELECTRIC EUROPA GmbH offers a new family of 11mm incremental-type encoders. The surface-mountable devices are available in a wide selection with or without center-push switch. They are remarkable for their long operating life with up to 1,000,000 switching cycles and 1,000,000 rotational cycles. The encoders have a metal shaft 6mm in diameter and an operating length of ca. 13mm. They feature a resolution of either 18 detents and 9 pulses or 30 detents and 15 pulses per rotation, depending on the model. The necessary detent torque amounts to 10mNm. Further technical specifications include a bushing length of 5, 7 or 10mm, and a push-pull-strength of 100N. The output signals of pins A and B are proportionate to the phase difference.

The center-push switch is designed as single-pole single-throw push-on switch and is rated for switching currents of up to 1mA at 5VDC. It requires an operating force of 5±2N. The actuating travel of the switch amounts to 0.5±0,3mm or 1.5±0.3mm respectively. The maximum initial contact resistance is specified for 100mΩ. The shaft-wobble is less than 0.2mm p-p (bushing length 10mm type) and therefore 30 percent less than previous models.

The EC11J series provides a body height of 4.5mm. With a compact floor space of 11.7mm x 14.2mm, the incremental encoders can be mounted even on high-density printed circuit boards without any problem. The new encoders are rated for voltages of 5VDC and have a maximum operating current of 10mA with resistive load. Their operating temperature ranges from -40°C to +85°C.

With the new EC11J series, ALPS meets the trend towards higher performance in conjunction with compact design. The combination of encoder and center-push switch and in particular the reduced shaft wobble provide a comfortable operation and a more accurate feeling when using the shaft. Typical applications of the EC11J series are volume adjustment or menu selection for car audio and car navigation systems.

For more information on the EC11J series please visit
http://.alps.co.jp/npv_product/1113_EC11J/EC11J_E.PDF

ALPS Electric Co., Ltd.

Since its establishment in 1948 ALPS has grown as a comprehensive manufacturer of electronic components. At present ALPS is creating innovative high-value-added products in its main business segments - Components, Magnetic Devices, Communications, Peripheral Products, and Automotive Electronics - which are contributing to the advance of a digital society. ALPS is a global company that carries out its operations with 22 production bases in 9 countries as well as 57 sales bases in 14 countries. Consolidated net sales in the year ended March 31, 2005 amounted to YEN 644 billion.

ALPS ELECTRIC EUROPA GmbH, a subsidiary of ALPS Electric Co., Ltd., was established in 1979. Since 1989, the European Head Office has been located in Dusseldorf, where a team of specialists works in Sales, Marketing, and Product Engineering. The activities of our branch offices in Munich, Paris and Milton Keynes, our sales office in Milan and our European distribution work are co-ordinated from Dusseldorf. ALPS Nordic AB, a 100 percent subsidiary of ALPS ELECTRIC EUROPA GmbH, is based in Sweden and services the Scandinavian market.