Increased Productivity with Appleton Mfg Division's Programmable Core Cutter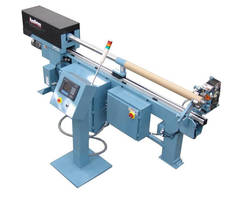 June 2009, Appleton, WI (Phone: 920-751-1555, Website: www.appletonmfg.com): Appleton Mfg Division's P510 Programmable Core Cutter offers users automated core feeding and advanced programmable control for enhanced cut-to-length performance and integrated automation options. Unlike a manual or semi-automatic core cutter, this innovative design allows operators the flexibility to produce any quantity of precision cores cut to multiple lengths in a single run or one custom length.

The automated core feeding application on the P510 Core Cutter is a servo driven ball-screw drive that advances the core with perfect speed and control as dictated by the controller. This feature eliminates the need to manually load the core onto the cutter, saving time and reducing the cost of labor required to run the machine.

The P510 also features a programmable logic control (PLC), with touch screen display, for exceptional flexibility in optimizing core materials and minimizing waste. With the PLC determining the number of parent cores and the best cut combination needed to produce the order with minimal scrap, the P510 eliminates all of the guess work, making it a cost-effective solution for converters. Once the cut sets are entered, they can be stored for future use.

"The P510 Core Cutter was designed to drastically increase efficiencies and free up our customers' operators to be able to accomplish more in less time. The Core Cutter also reduces waste due to the accuracy and precision of the machine," explained Mark Rasper, Engineering Manager at Appleton Mfg Division.

Appleton Mfg. Division's P510 Core Cutter is engineered with proven features that ensure cut quality, ease of operation, and operator safety:


Free-Standing Control

Easy Setup and Operation

Automated Core Advancement

Precise, Polished Cuts

Rugged Construction Installation and Training

Superior Support

Appleton Mfg. Division is a fully integrated engineering, design, sales, service and manufacturing firm producing custom and semi-custom material handling solutions. Dedicated to providing innovation and customer service, Appleton Mfg. Division offers a full line of core cutters, core handling & finishing, roll & cart movers, safe-slabs, parts & services, and showers/shower systems.

For more information on Appleton Mfg. Division's innovative core cutters, please call James Nobles at 920-751-1555 or visit their website at www.appletonmfg.com.

For more information regarding the content of this press release, please contact David Markgraf at Pinnacle XL 312-433-9800.


More from Cleaning Products & Equipment