Pressure Sensors / Detectors / Transducers
Incontinence Sensor alerts caregivers of in-bed moisture.
Press Release Summary: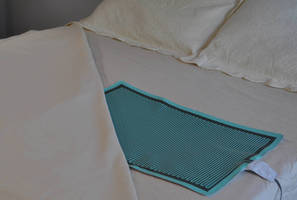 Supplied as wired sensor or adapted with wireless transmitter, Incontinence Sensor can be paired with alarm system to detect incontinence and excessive sweat in bed. Presence of any moisture on pad alerts caregiver of issue. As single-patient, multiple-use sensor serving home healthcare and post-acute care monitoring markets, sensor pad can be wiped down using non-caustic cleaners for multiple uses. Lifetime is approximately 25 cleanings or 30 days for single patient.
---
Original Press Release:
Telehealth Sensors Introduces New Incontinence Sensor
Batavia, IL - Telehealth Sensors (THS) introduces the Incontinence Sensor, a revolutionary advancement in the home healthcare and post-acute care monitoring market. The Incontinence Sensor can be paired with an alarm system to detect moisture in the bed. This product is available as a wired sensor or can be adapted with an in-home wireless transmitter.

While focused on incontinence, the sensor detects the presence of any moisture on the pad. Excessive sweating will also activate the sensor, alerting a caregiver of an issue. Excessive sweating and incontinence leave the patient in direct contact with moisture which can lead to skin damage and bed sores. By detecting moisture and incontinent events this sensor can improve patient comfort and reduce a major factor in skin damage.

The Incontinence Sensor is designed to be a single patient, multiple use sensor. Some illnesses can be transmitted via urine and therefore using the sensor between patients is not recommended. The sensor can be used by the same patient multiple times by wiping the sensor pad down using non-caustic cleaners. The pad is not machine washable. The lifetime of the sensor is approximately 25 cleanings or 30 days (whichever comes first) for a single patient

The system comes packaged with two parts: the sensor pad and an electronic box that interfaces the sensor with a wired or wireless alert system. The sensor pad is disposable and can be bought separately from the electronic box. The electronics are battery operated using two AAA batteries with an expected lifetime of 2.5 years.

THS also offers a variety of other innovative, customizable products for use in in-home monitoring systems, as well as in hospitals and for post-acute care. THS's products, including the Adaptive Bed Sensor, Chair Sensor, Toilet Sensor, and Call-for-help button, are unobtrusive enough to ensure users' independence, but provide caregivers an elevated degree of security. Just as with the Incontinence Sensor, these sensors can work with wired and wireless systems and can be programmed to monitor incidents and/or activity during specific times of day or set up to provide continuous monitoring, depending on the customer's needs. Whether your company specializes in presence detection or fall-prevention, THS's inconspicuous products can be adapted to suit most systems.

Telehealth Sensors's products have been sold internationally but are designed, engineered and manufactured complete in the United States. Learn more about these products, including the Incontinence Sensor, at www.telehealthsensors.com.