Inclinometer features frequency response of 2 Hz.
Press Release Summary: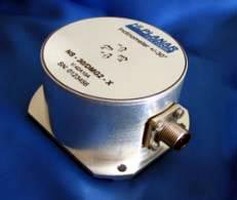 Available in ±5, ±15, and ±30° measurement ranges with resolution of 0.001°, D Series is housed in IP67 rated rugged aluminum package. Sensors are supplied with digital RS232C output and one additional output choice including analog voltage, analog current, PWM, or switch. CE-approved tilt sensor is shock and vibration resistant and can be used in mobile and stationary cranes, lifting platforms, boom and scissor lifts, road grading, and satellite antenna, and mobile weighing systems.
---
Original Press Release:

D Series Inclinometer from Measurement Specialties



New Inclinometer Provides Greater Accuracy than Fluid Level Sensors at Lower Cost than Servo Units

D Series from Measurement Specialties has excellent cost-performance ratio

A new high resolution inclinometer from Measurement Specialties is more accurate than traditional fluid level tilt sensors and less expensive than servo units. With a frequency response of 2Hz (.5 seconds), the D Series is fast enough to be used for tipover protection applications.

The inclinometer provides higher performance than traditional fluid level sensors in applications that do not require the ultra-fast response times and extreme accuracy of servo units. The economical high resolution tilt sensor is affordable enough for OEM applications and accurate enough for instrumentation or retrofit use. It is suitable for all leveling applications, including mobile and stationary cranes, lifting platforms, boom and scissor lifts, road grading, satellite antenna and mobile weighing systems, and other outdoor equipment.

The D-Series is available off-the-shelf or as a customized module in production volumes for OEMs. OEMs can purchase the proprietary tilt element alone or with unique packaging designed specifically for integration into their equipment.

As an off-the-shelf unit, the CE-approved tilt sensor is housed in a rugged aluminum package rated IP67 for use in the harshest environmental conditions. Its robust technology withstands shock and vibration. It is available in three measurement ranges: ± 5°, ± 15°, and ±30°, all with resolution of 0.001 degree. Each D Series sensor is supplied with digital RS232C output and one additional output specified by the purchaser from a selection including analog voltage, analog current, PWM or switch.

D Series tilt sensors operate on a proprietary conductive technology using electrolytic fluid. This technology enables higher resolution than conventional fluid tilt devices while featuring the lower cost structure of a MEMS (micro-electromechanical systems)-based device.

Measurement Specialties, Inc., designs and manufactures a wide variety of sensors and transducers to measure precise ranges of physical characteristics including pressure, force, vibration, position, humidity and temperature. Specifications can be customized for orders of sufficient quantity.

For sales inquiries, contact:
Europe:
Marc Zuern
Sales & Marketing
Application Manager Inclinometer
HL Planartechnik GmbH,
a division of Measurement Specialties
Hauert 13 - 44227 Dortmund/Germany
Phone +49 (0) 231-9740-62
Fax +49 (0) 231-9740-20
marc.zuern@hlplanar.de
www.hlplanar.com

China:
Zhen Chen
Measurement Specialties
Tel +86-755-8330-1004
Fax +86-755-8330-6797
zhen.chen@meas-spec.com

Taiwan:
Betina Lin
Turn-Luckily Technology Co.
Tel +886-2-776-5888
Fax +886-2-751-8881
betina@turnluck.com.tw

Japan
K. Matsuzaki
Pacico Boeki, Ltd
Tel +81-33-946-5621
Fax +81-33-946-5628
nakamura@pacico.co.jp

Korea:
Lee Moon Young
Measurement Specialties
Tel +82-2-589-0712
Fax +82-2-589-0713
tug701@unitel.co.kr

Australia
Justin Mellors
Applied Measurement
Tel +613-9568-0588
Fax +613-9568-0787
sales@appliedmeasurement.com.au
http://www.appliedmeasurement.com.au

New Zealand
Keith Mandeno
Mandeno Electronic Equipment Ltd.
Tel +64-9-630-7871
Fax +64-9-630-1720
sales@mandeno.co.nz

Singapore, Malaysia, Indonesia, Thailand, Vietnam, Philippines
Wenn Tan Kenda Technologies Pte Ltd.
Tel +065-6543-1183
Fax +065-6543-1182
wenn@kenda.net
EAD@kenda.net
kensales@singnet.com.sg
http://www.kenda.net

More from Electrical Equipment & Systems