Inch Size Nylon Plastic Hand Knobs Offered by J.W. Winco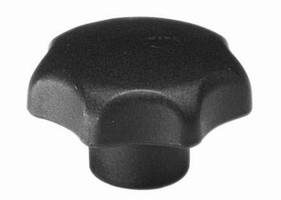 NEW BERLIN, WI - J.W. Winco, Inc., a leading supplier of standard industrial machine components, announced it has expanded its line of Inch Size Nylon Plastic Hand Knobs.

Available with blind and tapped through inserts, the Nylon Plastic Hand Knobs offer ergonomic styling at an economical price. Made from black matte glass filled nylon plastic, the hand knobs have a heat tolerance of 110° C (230° F). The tapped inserts are zinc-plated steel, molded-in.

J.W. Winco offers an extensive selection of inch and metric size adjustable levers, cabinet U-handles, plastic and steel hinges and locking mechanisms, revolving and retractable handles, hand wheels, hand cranks, conveyor components, leveling mounts, hand knobs, spring, ball and indexing plungers, jig, fixture and fastening components, toggle clamps, metric casters and wheels, universal joints, oil sight glasses, and metric tools for the industrial and commercial equipment industries. J.W. Winco's website catalog, with 3D CAD and online buying, is viewable at www.jwwinco.com.

For more information, contact
J.W. Winco
800-877-8351,
fax 800-472-0670,
Web at www.jwwinco.com
e-mail at sales@jwwinco.com.

More from Explosives, Armaments, and Weaponry