In the City of Brotherly Love What's Not to Like?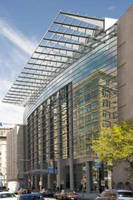 Deriving its name from the Greek words "phila" meaning love and "delphia" that stands for brother, "The City of Brotherly Love" was recently described in an article for The Independent as "friendly, relaxed and easy to fall for." According to the article, "If New York is the alluring but aloof acquaintance that you've never really got to know, Philadelphia is the amiable guy on the bus who slaps you on the back, recounts his life story, and offers you half of his cheesesteak sandwich."

In one research study conducted by Sperling's Best Places, Philadelphia was ranked as one of the Top 10 cities poised on the "Edge of Greatness" based on quality of life indicators such as art, music, culture, sports, Leadership in Energy & Environmental Design (LEED) certifications and population growth. "While Philly residents may often consider themselves the underdog in professional sports, this city scored sixth for producing homegrown sports heroes," researchers observed. "Philadelphia also features high scores in the music, arts and alternative sports categories, and scored high in health resources and stable housing."

In its ranking of "America's 10 Most Walkable Cities," TheDailyGreen.com listed Philadelphia No. 5 and noted, "The top seven neighborhoods in Philly are designated as Walkers' Paradises, and 66 percent of city residents have a Walk Score of 70 or above."

U.S. News & World Report ranked Philadelphia No. 9 on its list of the 15 "Best Family Vacations in the U.S. "Philadelphia's South Street offers an excellent scene for families, and Philadelphia in general contains an abundance of family-friendly museums, making the city a hotspot for educational attractions." the magazine noted. "The Liberty Bell and Reading Terminal Market (the City's primary farmer's market) are also uniquely Philadelphian attractions that appeal to children and parents alike."

According to the Greater Philadelphia Tourism Marketing Corporation (GPTMC), the city welcomed 37.4 million visitors in 2010, representing a 4 percent increase from 2009. "Of those, 33.1 million - or more than 80 percent - of those visitors were here for a leisure purpose," the GPTMC reported. "Since 1997, total visitation to the Philadelphia region has grown by 10 million leisure travelers."

With the $786 million expansion of Pennsylvania Convention Center in Philadelphia, visitor traffic is expected to soar to an estimated 1.5 million conventioneers per year. "The ANNEX consists of an additional 935,000 square feet of Exhibit Hall, Meeting Rooms and 5th level Ballroom Room," announced the Pennsylvania Convention Center Authority (PCCA) at the project's completion in March 2011. "The Annex stretches the current footprint two city blocks west to Broad Street; providing the Convention Center with a presence on North Broad Street. The Broad Street façade welcomes visitors through an expansive glass curtainwall and structural steel canopy. The Convention Center boasts the largest contiguous exhibit space in the Northeast, the largest Convention Center Ballroom on the East Coast and allows the Pennsylvania Convention Center Authority to host two tradeshows or major conventions simultaneously."

During construction of the Convention Center's expansion, Vitetta Architecture contacted Tnemec coating consultant Ed Enoch of Del-Val Coatings to assist with specifying a protective coating system for all exterior structural steel. "The architect and owner wanted a coating system that would preserve the color and gloss and provide extended life for the highly visible steel supports that surround the building," Enoch recalled. "The architect selected a system that included a zinc-rich primer, epoxy intermediate coat and two finish coats of polyurethane to ensure proper color and hiding."

The steel was prepared in accordance with SSPC-SP6/NACE No. 3 Commercial Blast Cleaning and primed with a shop-applied coating of Series 90-97 Tneme-Zinc, an advanced technology zinc-rich urethane. An intermediate coat of Series 161 Tneme-Fascure, a corrosion-resistant polyamide epoxy was also applied by the fabricator for protection against abrasion, immersion and mild chemical contact. Two finish coats of Series 1075 Endura-Shield II, an aliphatic acrylic polyurethane, were then shop-applied for protection from abrasion, wet conditions, corrosive fumes and exterior weathering.

"The architect and owner understood that access to the steel would be very difficult after construction was completed, which is why they specified a long-lasting, high performance coating system," Enoch added. "The Pennsylvania Convention Center Authority and the architect have received numerous compliments on how well the steel members compliment the newly renovated sections."

The Convention Center expansion has allowed the building to achieve LEED certification, and has allowed to be named the single largest public works project in Pennsylvania history, according to the convention center's website, PAConvention.com.


More from Packaging Products & Equipment