In-Store Merchandiser displays EISA compliant lamps.
Press Release Summary: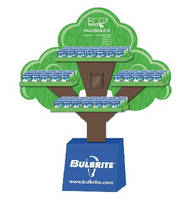 Designed to display Eco-Friendly Halogen A19 bulbs, In-Store Merchandiser replicates shape and look of tree. Shelves, built into tree branches, hold up to 46 boxes with 2 energy efficient lamps in each. Brand is printed on header, with bulb wattage equivalencies listed to right. POP display also includes brochure holder complete with brochures highlighting upcoming law changes.
---
Original Press Release:

BULBRITE Introduces Tree-Shaped POP Display for EISA Compliant, Eco-Friendly Halogen A19 Lamps



Innovative In-store Merchandiser Displays EISA Compliant Lamps

MOONACHIE, NEW JERSEY--- To help lighting showrooms and distributors prepare for new laws changing the standard light bulb as we know it, BULBRITE has introduced a new, in-store merchandiser to display Eco-Friendly Halogen A19 bulbs. The new energy efficient bulbs comply with the Energy Independence and Security Act planned to take effect on January 1, 2012. BULBRITE is a leading supplier of innovative, energy-efficient light source solutions and the premier educational resource for lamping technology.

Designed with consumers in mind, BULBRITE's eye-catching, in-store merchandiser features a creative, environmentally friendly design that replicates the shape and look of a tree. The shelves, built into tree branches, hold up to 46 boxes, with two energy efficient lamps in each. The "Eco-Friendly Halogen A19" brand is prominently printed on the header, with bulb wattage equivalencies listed to the right. This POP display also includes a brochure holder complete with consumer-friendly brochures highlighting the upcoming changes.

"We are proud to become the first manufacturer to promote lamps that comply with this new legislation and help consumers, contractors and other industry professionals save energy and money," explains Cathy Choi, President of BULBRITE. "These bulbs, which offer the same basic look as standard lamps, provide distributors with energy efficient lamping alternatives to the current CFLs and LEDs on the market today."

The new EISA legislation enforces strict efficiency requirements for incandescent lamps and states that general service light bulbs must operate up to 30% more energy efficient than current standards require. By offering these EISA compliant bulbs, consumers will gain the benefits of higher efficiency and superior lighting quality without having to convert to CFLs (compact fluorescents) or LEDs (light emitting diodes).

BULBRITE's Eco-Friendly Halogen A19 lamp is energy saving, fully dimmable and available in four wattages, all of which use significantly less energy than standard incandescents. The 29-watt is equivalent in lumen output to the 40-watt incandescent; the 43-watt is comparable to a 60-watt incandescent; the 53-watt is equivalent to the 75-watt incandescent; and the 72-watt is comparable to a 100-watt incandescent. These versions are designed for use with a full range of lighting fixtures including: chandeliers, outdoor and security lighting; ceiling pendants; recessed downlights; portable table and floor lamps; and wall sconces.

The Eco-Friendly Halogen A19 lamp is available in clear and soft white finishes, for use on a 120-volt lighting system. Each bulb has a life of 1,000 hours and its lumen output ranges from 380 for the 29-watt soft white style, to 1490 lumens for the 72-watt clear finished version.

About BULBRITE

BULBRITE is a leading manufacturer and supplier of innovative, energy-efficient light source solutions. Founded nearly 40 years ago, BULBRITE is a family owned business renowned for its commitment to innovation, education and new technology. The company has introduced many innovative and design award-winning products, including its exclusive KX-2000®, Dark Sky, Purify 02, and Halogen R111 GU10, as well as the 2012 EISA-compliant Halogen A19 and TURBO LEDs. BULBRITE offers an extensive line of light bulbs and lamping options including LEDs, HID, Compact Fluorescents, Fluorescents, Halogens, Krypton/Xenon, Incandescents, and a broad range of specialty lamps.

Top-notch service is achieved with an ALA-certified customer service, sales and operations teams and a national sales force of first-class professionals. Ninety-nine percent of the company's orders are processed and shipped Same Day using a state-of-the-art order entry, warehousing and distribution system.

To help lighting professionals better understand the latest technology and developments, BULBRITE hosts a broad range of webinars, product training and seminars on Light Bulbs, LEDS and Sustainable Lamping Options.

BULBRITE is a proud supporting Committee Member of the American Lighting Association, Silver Sustaining member of the Illuminating Engineering Society of North America (IESNA), an Energy Star Partner and a Member of the International Dark Sky Association.

BULBRITE is headquartered at 145 West Commercial Avenue in Moonachie, New Jersey. Showrooms, Distribution and Educational Centers are located in Moonachie, New Jersey and Dallas, Texas. For more information, contact BULBRITE: Tel. 1.800.528.5555 Email: info@Bulbrite.com Fax: 1.800.441.7708 Website: www.Bulbrite.com

Follow BULBRITE on TWITTER: Twitter.com/Bulbrite

Follow BULBRITE on FACEBOOK: Facebook.com/Bulbrite

More from Mechanical Power Transmission