In-Line Water Cut Monitor features spool piece mounting.
Press Release Summary: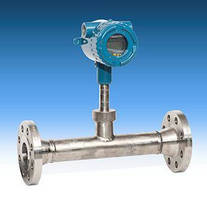 Designed for water in oil measurements, Universal IV™ Cut Monitor (CM) replaces spool piece designs installed in field and utilizes industry-standard size sensing element that installs directly into process piping. In-line probe design allows analysis of flowing fluid sample in real-time, while Cote-Shield™ technology ignores coating buildup on probe and puts sensing area of instrument directly into process stream. Monitor is compatible with pressures to 1,000 psi and temperatures to 450°F.
---
Original Press Release:

Drexelbrook Offers Universal IV(TM) In-Line Water Cut Monitor with Spool Piece Mounting



Replaces Competitive Spool Piece Designs Installed in the Field;

Features Temperature Compensation and Cote-Shield™ Protection



HORSHAM, PA — AMETEK Drexelbrook, a world leader in capacitive-based level measurement, now provides its Universal IV™ CM Model Water Cut Monitor with spool piece mounting.  Designed specifically for high accuracy water in oil measurements, the Universal IV Cut Monitor (CM) is a form, fit and function replacement for competitive spool piece designs installed in the field.



The Universal IV CM utilizes an industry-standard size sensing element that can be installed directly into process piping. The in-line probe design allows the Universal IV to analyze a large representative sample of flowing fluid in real time. In addition, the Universal IV offers the highest pressure and temperature in the industry—1000PSI and temperatures up to 450oF.



The Universal IV's sensing element extends into the main process line, taking an average of the capacitive property of the fluid over its entire length. That ensures a smoother and more accurate response, regardless of the mixture. The monitor's onboard electronics then computes the relationship between capacitance change and water cut.



Among the other features of the Universal IV CM are a built-in LCD display and key pad and its field-proven Cote-Shield™ technology, which ignores coating buildup on the probe and puts the sensing area of the instrument directly into the process stream.



The monitor's sensing element utilizes a PEEK (Poly Ether Ether Keytone) material and stainless steel sensing rod that is extremely durable and requires no epoxy coatings that can wear out and require expensive servicing. There are no gaskets that require servicing, and the sensing element will not wear out in well fluids that include large amounts of sand.



A temperature-compensated (TC) version is available that measures product temperature internally and calculates a true water cut reading at any temperature up to 160oF.



Applications for the Universal IV CM include automatic well testing (AWT), lease automatic custody transfer (LACT), basic sediment and water (BS&W), separation vessels, pipeline slug detection, truck unloading, pipe protection, dielectric analysis, and machinery lube oil monitoring. The Universal IV CM is approved worldwide for Class 1 Div 1 and Zone 0 hazardous locations. FM, FMc, ATEX and IECEx approvals are available.



Universal IV monitors ship from the factory pre-calibrated and require only one point validation. Field configuration can be done from anywhere along the two-wire loop with Drexelbrook proprietary software. Installation and start up services are available on all cut monitors. Factory trained service engineers are able to assist users with installation, start-up and calibration.



The Universal IV CM is fully backward compatible with Drexelbrook's industry-leading CM-6 / CM-3 systems, offering customers a seamless transition to the improved Universal IV system.  An upgrade retrofit kit is available that allows replacement of existing transmitters without removing the probe.



AMETEK Drexelbrook is an acknowledged leader in level measurement with more than 50 years of experience.  It offers process level measurement solutions, including RF Capacitance / Admittance, TDR/GWR, Radar, Ultrasonic, Magnetostrictive, Hydrostatic, Vibration, Conductive and Float devices.



Drexelbrook level measurement instruments are used in a wide range of industries, including petroleum, chemical, petrochemical, food/beverage, water/wastewater, power, pharmaceutical, pulp/paper, mining, aggregates, feed/grain among others.



AMETEK Drexelbrook is a unit of AMETEK, Inc., a leading global manufacturer of electronic instruments and electromechanical devices with annual sales of  $4.0 billion. For more information,  contact AMETEK Drexelbrook, 205 Keith Valley Road, Horsham, PA 19044.  Telephone:  215-674-1234 or Fax: 215-674-2731. Website:  www.drexelbrook.com

More from Thermal & Heating Equipment