Gas and Chemical Sensors / Detectors
In-Line Conductivity Sensor withstands boiler environments.
Press Release Summary: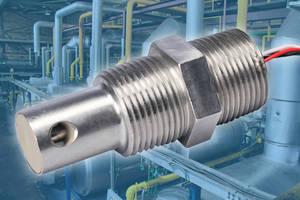 Designed for use in industrial boilers, CS875 Series provides conductivity measurements at saturated steam conditions up to 600 psig and temperatures up to 486°F without cooling of process sample. Sensor enables continuous automatic blowdown control, which minimizes corrosion and scaling. Models with and without ATC temperature element are available, and all feature 316 stainless steel body and measuring pin, PEEK insert, and Perfluoroelastomer O-rings.
---
Original Press Release:

Sensorex High-Temperature, High-Pressure Conductivity Sensor for Boilers



CS875 Series withstands extreme conditions



Garden Grove, California – Sensorex's new in-line high-temperature and high-pressure CS875 conductivity sensor has been designed especially for use in industrial boilers. This rugged sensor provides accurate, repeatable conductivity measurements at saturated steam conditions up to 600 psig (41.4 bar) and temperatures up to 486°F (252°C) without cooling the process sample.



The sensor enables continuous automatic blowdown control, minimizing corrosion and scaling. By eliminating excessive blowdown in higher pressure boilers, energy and treatment chemical use can be reduced. The CS875 sensor is designed for use with most makes and models of conductivity transmitters or controllers.



Sensors have 3/4" male NPT mounting threads with a 1" insertion depth for easy installation. Both the body and the measuring pin are constructed of 316 stainless steel. A special thermally resistant PEEK insert and high temperature Perfluoroelastomer o-rings ensure reliability at extreme boiler temperatures. Two models are available to suit application requirements – the CS875HT, and the CS875HTTC with ATC temperature element.



All Sensorex probes are supplied with 6" PTFE coated leads as standard for integral mounting to a forged steel junction box/conduit assembly. Longer cable lengths are also available at additional cost.



To learn more about Sensorex's CS875 Series conductivity sensors for boiler use, visit www.Sensorex.com, email sales@sensorex.com or phone +1 714-895-4344.



Visit Sensorex's online news archive at: http://halmapr.com/news/sensorex/.



About Sensorex:

Since 1972, Sensorex has been a global leader in the design and manufacture of quality electrodes and sensors for water quality and process applications. Sensorex has been approved and certified by NSF International to the ISO 9001:2008 standard for the design and manufacturing of laboratory and industrial analytical sensors for aqueous solutions. The company offers more than 2000 sensor packages for pH, ORP, conductivity, dissolved oxygen, free chlorine, chlorine dioxide, UV transmittance and other specialty measurements, as well as a full line of sensor accessories and online transmitters. Its expert technical support engineers solve analytical sensor challenges with custom OEM designs and off the shelf products. Headquartered in California, with a global distributor network, Sensorex is a subsidiary of Halma plc, an international market leader in safety, health and sensor technology.



Company Contact:



Sensorex

11751 Markon Drive

Garden Grove, CA 92841 USA

Tel: +1.714.895.4344

Fax: +1.714.894.4839

Email: sales@sensorex.com

Website: www.sensorex.com



Press Contact:

Halma Holdings PR Services

Lisa Wallner

11500 Northlake Drive

Suite 306

Cincinnati, OH 45249

Tel: +1 513.326.8045

Fax: +1 513.772.5507

Email: lisa.wallner@halma.com

Website: www.halmapr.com

Related