In-Line Charge Amplifier suits high-temperature applications.
Press Release Summary: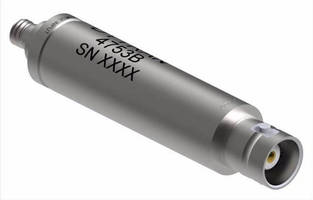 Designed for use with high-temperature charge mode accelerometers, Model 4753B is powered using constant current sources and is compatible with IEPE designated instrumentation. Miniature device can accept sensors with insulation resistance as low as 100 kW without deterioration in performance. Offered with 10-32 jack input connector and BNC jack output connector, Model 4753B features 10 mV/pC sensitivity and turn-on time of less than 5 seconds.
---
Original Press Release:

Miniature In-Line Charge Amplifier for High Temperature Applications, Model 4753B



Chatsworth, California, USA -Dytran Instruments, Inc. (www.dytran.com) a leading
manufacturer of piezoelectric and DC MEMS accelerometers, force and pressure transducers and associated electronics, has introduced the model 4753B, a miniature in-line charge amplifier designed for use with high temperature charge mode accelerometers. This IEPE unit is powered using constant current sources and is compatible with IEPE designated instrumentation.

Charge amplifiers convert electrostatic, high impedance charge signals generated by charge generators, such as charge mode accelerometers, to lower impedance voltage mode signals that can drive longer cables without signal degradation.

Model 4753B is specifically designed to operate with high temperature charge mode sensors because of its ability to tolerate very low levels of insulation resistance. This is a typical characteristic of high temperature piezoelectric accelerometers, and would force a conventional charge amplifier to shutdown. The Dytran model 4753B can
accept sensors with insulation resistance as low as 100kOhms without any deterioration in performance.

Available with a sensitivity of 10 mV/pC, the model 4753B is offered with a 10-32 jack input connector and BNC jack output connector, and features extremely fast turn-on time (<5 seconds).

For more information about the model 4753B or other products available from Dytran, or to order online, visit www.dytran.com. Priced at $298.

About Dytran Instruments, Inc.:

Established in 1980, Dytran Instruments, Inc. (www.dytran.com) is a leading manufacturer of piezoelectric and DC MEMS accelerometers, force and pressure transducers, and associated electronics. Dytran products are used extensively in aerospace, automotive, test and measurement and industrial applications. Dytran products are widely utilized for on-board measurements in a variety of aerospace,
commercial and military applications. Dytran maintains a world-class facility in Chatsworth (Los Angeles) California, USA for the design, development and manufacture of accelerometers, cables and accessories. This vertically integrated facility includes engineering, administrative, manufacturing, and automated machining capabilities. In addition, Dytran products are available worldwide via a network of distributors and representatives.

For more information: http://dytran.com/go.cfm/en-us/content/product/871/x?SID=

Additional link: www.dytran.com/products/4753B.pdf


More from Sensors, Monitors & Transducers