In-Duct Digital Psychrometer calculates enthalpy.
Press Release Summary: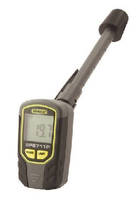 Intended for HVACR technicians, Model EP8711P can measure/calculate ambient temperature, RH, dew point, wet bulb temperature, absolute humidity, and enthalpy. Instrument is designed for in-duct measurements upstream and downstream of evaporator unit to determine HVACR system's efficiency. In addition to 6 in. sensor-tipped probe with linear insertion markings and adjustable rubber bushing, portable unit includes 4-digit 1.5 in. LCD, protective probe cap, and belt clip.
---
Original Press Release:

General Tools Introduces 6-in-1 In-Duct Digital Psychrometer Calculates Enthalpy; Determines System Efficiency



(New York, NY)  The new 6-in-1 In-Duct Digital Psychrometer with Enthalpy (EP8711P) from General Tools & Instruments (General®) is ideal for HVACR technicians. It offers the ability to measure or calculate six parameters using a single instrument. It is designed for in-duct measurements upstream and downstream of the evaporator unit to determine an HVACR system's efficiency. By calculating enthalpy, the device also allows a technician to assess a system's efficiency before and after charging with a refrigerant.



The EP8711P can measure/calculate the following parameters:




Ambient Temperature



Relative Humidity (RH)



Dew Point (DP)



Wet Bulb Temperature (WBT)



Absolute Humidity (Mixing Ratio)



Enthalpy



The instrument's integral probe is designed for use inside ductwork in order to better measure conditions and diagnose system performance issues. The 6-inch sensor-tipped probe has linear insertion markings and an adjustable rubber bushing. The unit also features a 4-digit, 1.5 in. (38mm) LCD display. A protective probe cap and a belt clip make the EP8711P ultra-portable and convenient on the job. The swiveling ability of the probe and display makes the instrument very versatile, increasing positioning options to facilitate optimal viewing of readings. All parameters (except RH) can be displayed in Imperial or metric units.



The EP8711P also can benefit professionals charged with monitoring and maintaining the environments of office buildings, greenhouses, food and equipment storage facilities, wineries, freezers, shipping containers, computer rooms, labs, libraries, museums and saunas.



The EP8711P offers the following ranges and accuracies:




Ambient Temperature: -4° to 158°F (-20° to 70°C)



Ambient Temperature Accuracy: +/-0.9°F (0.5°C) typical



RH Range: 0 to 100%



RH Range Accuracy: +/-3% typical



Dew Point Temperature Range: -76o to 158oF (-60o to 70oC)



Wet Bulb Temperature Range: -49o to 158oF (-45o to 70oC)



Absolute Humidity Range: 0 to 999 GPP (0 to 280g/kg)



Enthalpy Range: -8 to 318 Btu/lb. (-19 to 740kJ/kg)



See General's New 6-in-1 In-Duct Digital Psychrometer with Enthalpy (EP8711P) at Booth 6227 at AHR 2015, January 26-28, 2015 at McCormick Place in Chicago.



The instrument will be on display and available for order.



About General Tools & Instruments

Founded in New York City in 1922, General Tools & Instruments (General) is a recognized leader in the design and development of precision specialty hand tools and handheld test instruments. Continually producing innovative products that satisfy consumer needs and demands, the company offers more than 1,200 tools and instruments widely used by professionals, DIYers and hobbyists in a broad range of industries. To learn more about General and its products, visit www.generaltools.com or call Customer Support at 1-800-697-8665.



CONTACTS:



Attn. Publishers: Please send all sales leads to Peter Harper, VP Strategic Marketing, General Tools & Instruments - 80 White Street - New York, NY 10013-3567 - USA; Phone: 212-431-6100 x267; Fax: 212-431-6499; Email: p.harper@generaltools.com.



"Precision, Specialty and Innovation…Since 1922"

More from Fasteners & Hardware