Improvements and Customization for Contracting Packaging - Conveyorized Band Sealers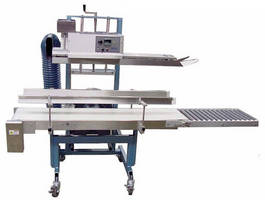 All Packaging Machinery, Ronkonkoma, NY is pleased to announce improvements to the current band sealing line.  The majority of the *A*P*M bag sealing line, although upgraded, operates basically the same as when the company started manufacturing over 60 years ago. Most of the *A*P*M* bag sealers purchased 20 years ago or more are still in operation.   Improvements to the components to manufacture the band sealer include dual motors on the model VCBSDM 1/4TX 12x5 WOLCB.  The dual motors allow for smooth synchronization between the sealing head speeds and conveyor speeds.  



• Upgrades to the frames to allow for more flexibility in sealing packages of different heights.  



• Pressure wheels have been added to models for sealing side gusseted pouches.  The pressure wheel squeezes the pouch after it travels through the sealing bands and while still hot, provides extra pressure to seal the pouch.  



• *A*P*M* band sealers are USDA approved.  



Each client has special needs that drive customization on many of the band sealer models as newly developed pouches are introduced to the contract packaging floor for processing and heat sealing.  



Base band sealer models offer the options that may be added to suit each client application need. Flexibility and increased production are extremely important to the contract packager. 



Basic band sealer models:  The vertical band sealers manufactured by All Packaging Machinery (*AP*M*) will render either a 3/8"or 1/4" or 1/8" wide seals. Custom seal widths up to 7/8" wide are available on the seal only configurations for stand up pouches.  Various models are available including those with bag top trimmers.    



To learn more about the All Packaging Machinery (*A*P*M*) line of continuous conveyorized band sealers contact Lynn Miranda, Sales & Marketing Manager at 631-588-7310 ext 111 or email to sales@apmpackaging.com.



More from Sensors, Monitors & Transducers