Improved Flex Life For Coax (RF) Assemblies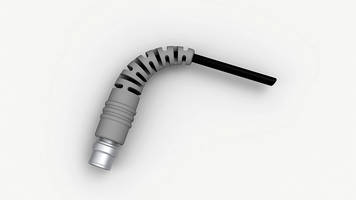 With the expansive use of Coax (RF) cable assemblies in Aerospace, Communication, Industrial and Military atmospheres. Rugged solutions are needed to meet specific industry standards and stringent frequency requirements.
ISC Engineering's improved overmolded solution helps provide a high flex, rugged part which in many cases helps reduce the total cost of ownership. Overmolding is an effective means of providing strain relief for wire terminations. In addition to the obvious cosmetic benefits, it offers mechanical advantages with options for mounting hardware and angled cable exits.
The primary mechanical advantage of the overmold is the final form and most importantly, flex relief. Flex relief in a molded cable assembly is most easily defined as improvement to the flex life of the cable itself.
Additional benefits of a molded design are moisture relief and sealing of the backside of the connector, helping to provide a rugged solution to withstand different environments and stringent industry standards.
If you would like to learn more about ISC's over molding capabilities. Please contact one of our sales engineers or visit our website www.iscengeering.com
Mark Davis
(909) 203-1125
Kyle Burk
(909) 203-1143