Tube / Pipe / Hose Cutters and Cutting Machinery
Imperial Systems Inc Partners with AKS Cutting Systems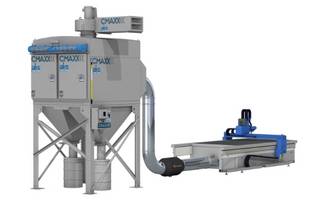 The investment in a quality cutting table can now be protected by a dust and fume collector custom-designed to meet the needs of advanced cutting machines
JACKSON CENTER, Pa., Nov. 4, 2016 - For most businesses, a plasma or laser cutting table is a huge investment. It requires research and planning to choose the right one. With all the consideration that goes into choosing a cutting table, equal thought should go into choosing a dust and fume collection system to work with it.
AKS Cutting Systems offers plasma tables, including models for general use, heavy or thick plate, high accuracy, or with 5-axis bevel for pipe and tube cutting. They also offer fiber lasers, which feature a low maintenance solid-state laser source with laser delivered through a fiber optic cable. This technology is equipped with a Class 1 safety enclosure and helical rack and pinion drive. These options make sure that any shop or business can choose the system most suited to the material they're cutting and the level of accuracy they require.
AKS knows the importance of a quality dust and fume collection system designed to handle the demands of a cutting table. They have chosen to work with Imperial Systems Inc., a company with extensive experience and a CMAXX Laser already specialized for this type of application.
"It's really a good feeling to know that a company like AKS trusts our systems enough to choose us as their dust and fume collection partner," says Jeremiah Wann, President and CEO of Imperial Systems Inc. "We know from experience how important a cutting table is to keeping a shop running. If you're going to buy one of the best cutting tables in the industry, it should be paired with one of the best dust and fume collection systems in the industry."
For more information on this partnership or to learn more about AKS Cutting Systems and Imperial Systems Inc., visit at the websites below. If you're attending FABTECH this year, you can stop by and see the AKS custom-designed CMAXX in person.
ABOUT AKS CUTTING SYSTEMS
Advanced Kiffer Systems, Inc. (AKS) is headquartered in Cleveland, OH, and has been at the forefront of manufacturing high-quality machinery, machine tools, customer special purpose machinery, and more, for over 100 years since 1912. Their headquarters and manufacturing facility is located next to the Cleveland Hopkins International Airport.
For the last 35 years, AKS Cutting Systems has manufactured CNC metal cutting machines including plasma, oxy-fuel, waterjet, fiber laser, and hydraulic Bentec™ bending machines for the tube and metal industry, and has a strong reputation for durability, accuracy and reliability with thousands of installations worldwide. AKS has partnered with many high-quality machinery sales dealers and has an extensive service and support network.
AKS FABTECH Booth #C25069
ABOUT IMPERIAL SYSTEMS
Located just north of Pittsburgh, Pennsylvania in the small town of Jackson Center, Imperial Systems is one of the top dust collection equipment manufacturers in North America. Their values are built on designing and installing custom industrial dust collection systems with the strongest, most durable fabrication to meet each customer's needs.
Imperial Systems Inc. designs innovative but practical and useful dust collection solutions for almost every industry, including but not limited to recycling, seed, grain, carpentry, welding, CNC plasma/laser cutting, thermal spray, grinding, mining, aggregate, sand blasting, aluminum, powder coating, biofuels, food processing, pet food, fiberglass, agricultural, chemical processing, paper scrap, fiberglass and many more.
Imperial Systems FABTECH Booth #N1825
SOURCE Imperial Systems, Inc
CONTACT:
Tom Hardenburg,
Web Site: http://www.isystemsweb.com
More from Computer Hardware & Peripherals