Impact Wrench provides both comfort and high torque.
Press Release Summary: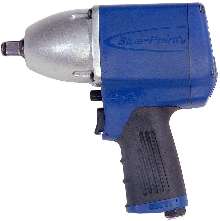 Square-drive Model AT600 Blue-Point® ½ in., with ergonomic design, has one-finger forward/reverse lever, adjustable, 4-position air regulator, and weighs only 4.1 lb. Unit provides maximum forward torque of 550 lb-ft and reverse torque of 600 lb-ft. Twin-hammer mechanism, surrounded in oil bath, operates at forward speed of 7,000 rpm and reverse speed of 8,000 rpm. Both aluminum front and protective composite rear housings are chemically bonded to molded grip.
---
Original Press Release:
Snap-on Tools Combines Comfortable Ergonomic Design and Power With New Blue-Point® Lightweight and High Torque Impact Wrench
KENOSHA, Wis., September 17, 2002 - The new AT600 Blue-Point® ½" Square Drive Lightweight and High Torque Impact Wrench by Snap-on Tools Company offers technicians great comfort and power when performing on-the-spot tasks. The durable unit offers versatile control, high torque and a lightweight feel to allow for quick and accurate fastening and removal of lug nuts, bolts and screws. The wrench's ergonomic design helps technicians perform tasks efficiently by providing maximum comfort. The grip handle's surface is designed to allow for maximum grip and reduced vibration for tight control and smooth execution of tasks. One hand is all that is needed to perform service operations - the patent-pending one-finger forward/reverse lever and adjustable four-position air regulator are easy to control and leave the other hand free for use. High torque provides the exceptional power for the AT600 Blue-Point Impact Wrench. The unit reaches a total of 550 ft. lbs. of forward torque and 600 ft. lbs. of reverse torque. The wrench's twin hammer mechanism, which is surrounded in an oil bath for high performance, reliability and long tool life, operates at a speed of 7,000 RPM forward and 8,000 RPM in reverse. The 4.1-pound AT600 Blue-Point Impact Wrench has a lightweight structure that is designed to reduce user fatigue and allow technicians to perform jobs with little restraint. Both aluminum front and protective composite rear housings are chemically bonded to the molded grip and protect the unit's internal motor. The housings also provide exceptional balance and durability. The AT600 Blue-Point ½" Square Drive Lightweight & High Torque Impact Wrench is ideally suited for a variety of on-the-spot maintenance services for vehicles including cars, trucks, motorcycles, boats, snowmobiles and recreational vehicles. Customers can find out more about this product by contacting their local Snap-on representative, visiting www.snapon.com or calling 877-762-7662. Snap-on Tools Company is a subsidiary of Snap-on Incorporated, a leading global developer, manufacturer and marketer of tool and equipment solutions for professional tool users. Product lines include hand and power tools, diagnostics and shop equipment, tool storage products, diagnostics software and other solutions for the transportation service, industrial, government, education, agricultural, and other commercial applications, including construction and electrical. Products are sold through its franchisee dealer van, distributor channels and company direct sales, including snapon.com. Founded in 1920, Snap-on is a $2+ billion, S&P 500 company headquartered in Kenosha, Wis., and employs approximately 13,500 worldwide.
Related