Impact Wrench provides 8 tools in 1 unit.
Press Release Summary: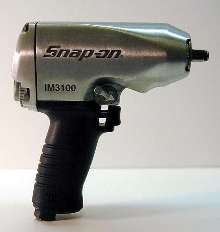 VERSADRIVER IM3100 generates up to 275 lb-ft of torque and adjusts from 3/8 in. to ½ in. drive with pull of pin. Ribbed cushion grip shields user's hand while absorbing vibration. Five-position, built-in air regulator and trigger tip valve offer varying speeds. Muffler bypass system allows unit to run in quiet or open mode. Wrench includes twin hammer impact mechanism, continuous oil bath lubrication, and 1-piece machined aluminum housing.
---
Original Press Release:
Revolutionary and Universal IM3100 VERSADRIVER from Snap-On Tools Provides Eight Tools in One Powerful Unit
New impact wrench offers interchangeable drivers and 275 foot pounds of torque KENOSHA, Wis., Nov. 25, 2002 - Tool users now have added value in a single purchase with the IM3100 VERSADRIVER from Snap-on Tools Company. The revolutionary impact wrench generates up to 275 foot pounds of torque and adjusts from a 3/8-inch drive to a 1/2-inch drive with a single pull of a pin, allowing users to interchange eight different square drives for a variety of tasks. The IM3100 VERSADRIVER is designed for tightening and removal tasks in an array of work environments, including automotive service centers, truck shops and tire shops. The unit includes 3/8-inch (IMBFR1R) and 1/2-inch (IMBSR1R) ringed drivers with six optional replacement anvils available - pinned, long-pinned and long-ringed for both 3/8-inch and 1/2-inch drives - for a variety of applications including fleet repair, manufacturing, assembly and machine repair. The impact wrench incorporates features that render easy use and provide comfort and power while performing tasks. A patented ribbed cushion grip, which shields the user's hand while absorbing vibration, is ergonomically designed to maximize comfort and insulate against cold temperatures. The grip is field replaceable, and its surface resists oil and other shop chemicals. A large selector knob controls forward or reverse operation, and a five-position built-in air regulator and trigger tip valve offer varying speeds for superior control. The IM3100 VERSADRIVER's patented muffler bypass system allows users to run the impact wrench in either quiet or open mode. In the quiet, or closed, mode the exhaust runs through the handle, which diminishes the sound and provides quieter operation. When the job requires full power, technicians can operate in open mode, bypassing the muffler to add 65 foot pounds of forward torque and 75 foot pounds of reverse torque. During open mode the front exhaust is directed downward, away from the task area. By-pass levers found on both sides of the unit allow the user to perform tasks with either hand and can be opened or closed to operate in the full power or quiet modes. The recessed design and detent in both levers help the user avoid accidental operation. The unit's motor maintains efficient, low-pressure performance and withstands heat and wear. The motor's twin hammer impact mechanism is durable and hard hitting for breaking stubborn fasteners loose. Six composite vanes and an oversized heavy-duty spline offer maximum power and output compared to competitive small spline motors. Continuous oil bath lubrication is added for long life and durability. The housing style of the IM3100 VERSADRIVER is compact, which yields an overall weight of the unit that is less than most impact wrenches (4.16 pounds) and allows users access to tight areas (overall unit length of 6.9 inches) with better control when performing tasks. The small and compact housing is also extremely tough and durable. The one-piece machined aluminum housing is seven times stiffer than plastic and helps reduce overall vibration during use. The patent-pending IM3100 VERSADRIVER is backed by a full one-year warranty. Customers can find out more about this product by contacting their local Snap-on representative, visiting www.snapon.com or calling 877-762-7662. Snap-on Tools Company is a subsidiary of Snap-on Incorporated, a leading global developer, manufacturer and marketer of tool and equipment solutions for professional tool users. Product lines include hand and power tools, diagnostics and shop equipment, tool storage products, diagnostics software and other solutions for the transportation service, industrial, government, education, agricultural, and other commercial applications, including construction and electrical. Products are sold through its franchisee dealer van, distributor channels and company direct sales, including snapon.com. Founded in 1920, Snap-on is a $2+ billion, S&P 500 company headquartered in Kenosha, Wis., and employs approximately 13,500 worldwide.