Impact Wrench has muffler for quiet operation.
Press Release Summary: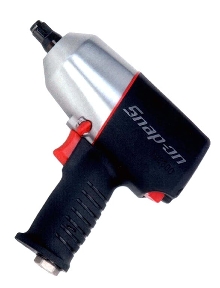 Lightweight Snap-on IMC500 1/2 in. square-drive wrench fastens and removes lug nuts, bolts, and screws in quiet and open modes. In quiet mode, exhaust runs through handle, providing quieter operation. When job requires more power, technicians can bypass muffler and add more torque. At full power, wrench achieves 525 lb-ft of forward torque and 620 lb-ft of reverse torque. It weighs 4.4 lb and has aluminum housing.
---
Original Press Release:
Snap-on Tools Introduces Lightweight IMC500 Impact Wrench with Maximum Durability, Comfort and Power
KENOSHA, Wis., Aug. 8, 2002 - With the versatile control, high torque and lightweight feel of the new Snap-on IMC500 1/2" Square Drive Impact Wrench, technicians can fasten and remove lug nuts, bolts and screws more accurately, quickly and comfortably than ever before. The unit's patented muffler bypass system allows users to run the impact wrench in either quiet or open mode. In the quiet, or closed, mode the exhaust runs through the handle, which diminishes the sound and provides quieter operation. When the job requires more power, technicians can bypass the muffler and add 25 ft. lbs. of forward torque and 20 ft. lbs. of reverse torque. At full power, the IMC500 ½" Square Drive Impact Wrench achieves a total of 525 ft. lbs. of forward torque and 620 ft. lbs. of reverse torque. The unit's lightweight structure is designed to reduce user fatigue and allow technicians to perform jobs with little restraint. The IMC500 ½" Square Drive Impact Wrench weighs 4.4 pounds and is eight-percent lighter than competitive models. Aluminum front housing and protective composite rear housing protect the unit's internal motor and provide exceptional balance and durability. The wrench's ergonomic design helps technicians perform tasks efficiently by providing maximum comfort. A ribbed and textured handle offers superior grip, user control and insulates against extreme heat and vibration. A contoured trigger depresses smoothly and allows users to control the precise amount of power and speed delivered by the unit's twin-hammer impact mechanism. A three-position regulator offers adjustable power settings for multiple applications and is recessed to prevent an accidental change in setting. The unit's toggle-style forward and reverse selector and 360-degree rotating Inlet Swivel are easy to use and can be operated with one hand. The IMC500 ½" Square Drive Impact Wrench is ideally suited for a variety of on-the-spot maintenance services for vehicles including cars, trucks, motorcycles, boats, snowmobiles and recreational vehicles. Customers can find out more about this product by contacting their local Snap-on representative, visiting www.snapon.com or calling 877-762-7662. Snap-on Tools Company is a subsidiary of Snap-on Incorporated, a leading global developer, manufacturer and marketer of tool and equipment solutions for professional tool users. Product lines include hand and power tools, diagnostics and shop equipment, tool storage products, diagnostics software and other solutions for the transportation service, industrial, government, education, agricultural, and other commercial applications, including construction and electrical. Products are sold through its franchisee dealer van, distributor channels and company direct sales, including snapon.com. Founded in 1920. Snap-on is a $2+ billion, S&P 500 company headquartered in Kenosha, Wis., and employs approximately 13,500 worldwide.