Impact Drivers and Wrenches feature cordless design.
Press Release Summary: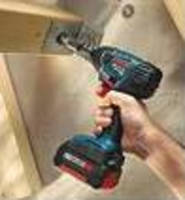 Built around 18 V and 14 V Litheon(TM) cordless platforms, Impactor(TM) Drivers and Wrenches operate at up to 2,800 rpm and deliver up to 3,200 bpm. Bosch 25618 18 V model can drive 3 in. all-purpose screw into pressure-treated 4 x 4 in about 1 sec and 3 x ¼ in. lag bolt in less than 4 sec. Ergonomic handle grip optimizes control and minimizes fatigue, while Flexible Power System allows user to choose SlimPack battery for lightest weight or FatPack for longest run time.
---
Original Press Release:

Bosch Unveils Mid-Range Litheon(TM) Impactor(TM) Lineup



New 18V and 14V Impact Drivers and Impact Wrenches feature best size,
best speed and best run time in category!

Mount Prospect, Ill., April 8, 2009 - Bosch Power Tools and Accessories made a splash this week with the introduction of six new Impactor(TM) drivers and wrenches built around its innovative 18V and 14V Litheon(TM) cordless platforms. Immediately, Bosch's new Impactors became the market leaders in speed, size and run time.

Operating at up to 2,800 RPM and delivering up to 3,200 BPM, Bosch's new Impactors are up to 27 percent faster than comparable cordless impact drivers and impact wrenches. In the demanding metal fastening, lag bolt and serial screw driving applications where impact tools live, the increase in speed means a significant boost to productivity. The Bosch 25618 18V Litheon Impactor Driver, for example, is capable of driving a 3" all-purpose screw into a pressure treated 4x4 in about 1 second. The same tool can drive a 3" x ¼" lag bolt into a pressure treated 4x4 in less than 4 seconds.

In addition to outstanding speed and power, Bosch's new Impactors are the most compact in their class. The 25618 has a head length of only 5.7 inches and is up to 25 percent lighter and 25 percent shorter (from nose to back of tool) than the competition. It also features an ergonomic handle grip designed to improve control and reduce fatigue in long run applications. All of these traits add up to a tool that is both more maneuverable, for tight spaces, and more comfortable, for all-day use.

Speed and maneuverability are only as important as the battery system behind them, however. In the case of Bosch's new Litheon-powered Impactors, the battery system delivers - and then some. The 18V Litheon 25618 is capable of driving up to 150 3"x1/4" lag bolts between charges. What about battery lifespan? Bosch's 18V Litheon FatPack batteries deliver up to twice the life of competitors' batteries.

Additional advantages of the Bosch Litheon system are the Flexible Power System (FPS), which allows users to choose either the SlimPack battery, for lightest weight, or FatPack, for longest run time. Bosch's patented Electronic Cell and Motor Protection, meanwhile, protects both the battery and the tool by preventing the three main causes of battery failure - overheating, overloading and deep discharging.

Bosch's new Impactor family includes the following tools:


Product Name   Volts  Drive  SlimPack / FatPack   Available?

25618 Impactor Driver 18  3/8" Hex  25618-01: 2 FatPack

            25618-02: 2 SlimPack   Now

25614 Impactor Driver 14  3/8" Hex  25614-01: 2 FatPack

            25614-02: 2 SlimPack  June '09

24618 Impactor Wrench 18  ½ Square  24618-01: 2 FatPack  June '09

24614 Impactor Wrench 14  ½ Square  24614-01: 2 FatPack  June '09

IWH181 Impactor Wrench 18  3/8" Square IWH181-01: 2 FatPack  June '09

IWH141 Impactor Wrench 14  3/8" Square IWH141-01: 2 FatPack  June '09


As with all Bosch Litheon cordless products, Bosch backs the platform with the industry's best cordless system protection plan - the Provantage 3-year Tool Protection Plan and 2-year battery replacement plan.

All of Bosch's new Impactors come complete with a charger, belt clip and case. To find out more about the tools or to find a local dealer, users may visit www.boschtools.com or call 877-BOSCH-99.

About Bosch Power Tools and Accessories:

Bosch Power Tools and Accessories is one of the divisions within the $1 billion, 4,000 employee strong Robert Bosch Tool Corporation, which is the North American branch of the largest power tool and accessory manufacturer in the world, Robert Bosch GmbH. Bosch provides a complete line of corded and cordless power tools and accessories engineered to survive any jobsite and allow professionals to take control of their work. For more information, call toll free 877-BOSCH-99 (877-267-2499) or visit www.boschtools.com.

About Bosch Group:

The Bosch Group is a leading global supplier of technology and services. In the areas of automotive and industrial technology, consumer goods, and building technology, some 271,000 associates generated sales of 46.3 billion euros (over $63 billion) in fiscal 2007. The Bosch Group comprises Robert Bosch GmbH and its more than 300 subsidiaries and regional companies in roughly 50 countries. This worldwide development, manufacturing, and sales network is the foundation for further growth. Each year, Bosch spends more than 3 billion euros for research and development, and applies for over 3,000 patents worldwide. The company was set up in Stuttgart in 1886 by Robert Bosch (1861-1942) as "Workshop for Precision Mechanics and Electrical Engineering."

In North America, the Bosch Group manufactures and markets automotive original equipment and aftermarket products, industrial automation and mobile products, power tools and accessories, security technology, thermo-technology, packaging equipment and household appliances. Bosch employs approximately 25,000 associates in more than 70 locations throughout the U.S., Canada and Mexico, with reported sales of $9.5 billion in fiscal 2007. For more information on the company, visit www.boschusa.com.

More from Communication Systems & Equipment