Immersion Heater supplies temperatures to 2100°F.
Press Release Summary: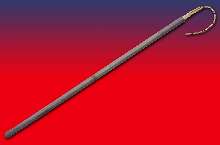 Impervious to aluminum disassociation, ceramic-sheathed heater design provides corrosion protection, abrasion resistance, and non-conductive qualities. Product includes NiChrome heating wire, rated 2100°F, and ceramic sheath composed of SiAlON tubing that withstands temperatures to 3100°F. Zoned construction allows for multiple coil configurations, which can provide multi-zone heating with varying heat flux along length of the heater.
---
Original Press Release:

New Ceramic-Sheathed Immersion Heaters Have Highest Temperature Ratings in Their Class


PITTSBURGH - March 10, 2003 - Chromalox announces a new ceramic-sheathed immersion heater, designed to supply temperatures up to 2100°F for direct immersion in processes. The innovative ceramic sheath provides extreme temperature protection for the heating elements inside. The non-metallic design also provides unmatched corrosion protection as well as exceptional abrasive resistance and non-conductive qualities.

The ceramic-sheathed immersion heater is designed for use in molten metal baths, abrasive or corrosive service, high pressure, vacuum, and other extreme temperature applications. This extreme service heater is limited only by the capacity of the heating wire inside the sheath and currently uses a NiChrome wire rated at 2100°F. The company is also evaluating Kanthal wire alloys rated at 2400°F and tungsten wires rated at 3000°F. While most metal-sheathed heaters are limited by the properties of the sheath material, this ceramic sheath is composed of SiAlON tubing and can withstand temperatures to 3100°F.

This unique immersion heater is ideally suited for direct immersion in molten aluminum and is impervious to aluminum disassociation. It is also designed for use in fluidized bed or catalytic reactors for processing highly-corrosive or acidic fluids, gases and vapors.

The thermally conductive nature of the ceramic sheath reduces the temperature gradient between core and sheath temperatures. Cold ohms standard specifications are +10/-5 percent without annealing the coils. The zoned construction allows for multiple coil configurations, which can provide multi-zone heating with varying heat flux along the length of the heater.

Heaters may be designed with one, two or three coils with leads that fit into a ¾ inch NPT coupling. Parallel elements are electrically isolated from the sheath wall with a refractory insulation material. The riser and housing assembly is hydrostatic pressure tested at 300 psi for NEMA 7 rating. Fittings can be any housing with NPT adapter, pipe plug, 1 ½" NPS or larger flanges, or other customer specified metallic mounting plates.

These ceramic-sheathed immersion heaters are available in 28mm (1 1/8") OD only, and all standard lengths from 450mm (17 ¾") to 1905mm (75"). The units operate up to 480 volts in single or three phase configurations and have a watt density rating of 60 wpsi maximum.

When multiple immersion heaters are installed, users can independently monitor and control the heat to individual zones to achieve optimum performance. Temperature control for the new ceramic-sheathed immersion heater can be achieved with just about any resistive heating control system. This can be a PID logic controller and SCR power pack, which will provide low hysteresis for tight temperature control. Chromalox supplies a complete line of DIN temperature controllers and SCR power packs for this purpose, including multiple loop controllers with features such as soft-start, ramp and hold, and automated fuzzy logic PID tuning.

For more information. To download the Product Data Sheet and obtain pricing information on this new ceramic-sheathed immersion heater, or any Chromalox product, visit www.mychromalox.com or contact Chromalox at:
Telephone: 800-443-2640
412-967-3800
FAX: 412-967-5148
Address: Chromalox
103 Gamma Drive Extension
Pittsburgh, PA 15238

About Chromalox. For more than 85 years, customers have relied on Chromalox for the utmost in quality and innovative solutions for industrial heating applications. Chromalox manufactures the world's largest and broadest line of electric heat and control products, including heating components, immersion heaters, circulation systems, heat transfer systems, boilers, industrial and comfort air heating, heat trace cables, sensors and precision electronic controls. With multiple manufacturing, engineering, warehousing and sales locations throughout North America and Europe, Chromalox is a global supplier providing the highest level of customer support. Chromalox is headquartered in Pittsburgh, PA.


More from Chemicals & Gases