Immersion Circulator Provides Precise Temperature Control for Pharmaceutical Disintegration Testing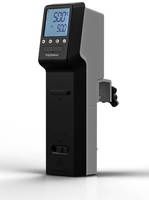 Niles, IL –  Disintegration time is key to ensuring that tablets and capsules deliver the proper dosage at the appropriate time, with some of these pharmaceuticals designed to dissolve on the tongue and others intended to remain completely intact until swallowed. The PolyScience MX Immersion Circulator enables quality control and RD charged with testing tablet disintegration time to maintain the testing media at the precise temperature required.



Suitable for use on test vessels as large as 28 liters, the MX Immersion Circulator features a temperature range of ambient +10° to 135°C and a temperature stability of ±0.07°C. Equally important, the unit occupies a minimum of reservoir space to provide more room tablet test baskets. The MX has an extra-large backlit readout that displays both temperature and set point simultaneously, 1-speed pump with flow adjuster, and heavy-duty mounting clamp that attaches securely to both flat and rounded vessel walls. For added safety and ease of maintenance, the unit features a fully-integrated housing that prevents direct contact with the pump and heater, yet provides quick access for inspection and cleaning. 



For more information, visit http://www.polyscience.com/en/category-heating-circulators-baths.php#!/category18, call toll-free 1-800-229-7569 (outside the US call 847-647-0611), email sales@polyscience.com, or fax the company at 847-647-1155.



More from Architectural & Civil Engineering Products