iManage RAVN Extract Named New IT Product of the Year at the British Legal Technology Awards 2018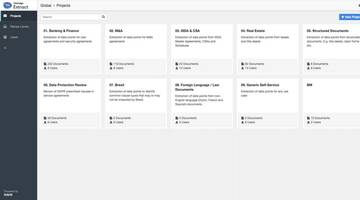 Second consecutive year iManage is honored for transforming how law firms and legal departments get work done
CHICAGO, Nov. 02, 2018 (GLOBE NEWSWIRE) -- iManage was named a winner at the British Legal Technology Awards 2018 in the New IT Product of the Year category. The awards dinner took place in London, recognizing excellence in legal technology, IT security and innovation, as well as the individuals, teams and suppliers transforming the future of legal services.
"The British Legal Technology Awards recognizes the UK's best and brightest in the legal industry, so to be named alongside our customers and peers is a great honor," said Nick Thomson, General Manager of iManage RAVN AI. "We have spent a long time developing practical AI solutions to make difference. Tonight's achievement demonstrated our ability to deliver against this goal and we look forward to working in partnership with firms to leverage AI and innovation."
iManage RAVN Extract, powered by RAVN AI technology, automatically reads, extracts and interprets critical business information from large volumes of documents and unstructured data, all from a single user interface. Organizations can reduce manual labor costs by 50% or more and transform unmanageable projects into streamlined and profitable processes.
In addition, UK-based law firm Keoghs was named as winner in the Team of the Year category. Dene Rowe, innovation director and partner at Keoghs notes, "An integral part of Keoghs success is down to relationships with vendors such as iManage. I am delighted that iManage RAVN Extract has been recognised for Product of the Year because they are an integral part of our business and the value we can now deliver to our clients."
At last year's award program, iManage was named IT Security Provider of the Year as the vendor which demonstrated unprecedented knowledge, advancement and solution implementation.
Follow iManage via: 
Twitter: https://twitter.com/imanageinc 
Facebook: https://www.facebook.com/iManageinc/ 
Blog: https://imanage.com/blog/ 
Vimeo: https://vimeo.com/imanage 
LinkedIn: https://www.linkedin.com/company/imanage
About iManage 
iManage transforms how professionals in legal, accounting and financial services get work done by combining the power of artificial intelligence with market leading document and email management. iManage automates routine cognitive tasks, provides powerful insights and streamlines how professionals work, while maintaining the highest level of security and governance over critical client and corporate data. Over one million professionals at over 3,000 organizations in over 65 countries – including more than 2,000 law firms and 500 corporate legal departments – rely on iManage to deliver great client work.
Press Contact Information:
Manjul Gupta
Director of Corporate Communications
iManage 
Phone: +1-669-777-3430
press@imanage.com
More from Electronic Components & Devices