Imaging System optimizes visualization during ENT procedures.
Press Release Summary: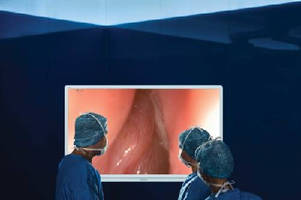 Intended for ear, nose, and throat surgeons, VISERA 4K UHD System allows operating room personnel to get closer to operating field as they view cases live on 55 in. operative display that magnifies anatomical features. Big Screen surgical system was created to address unmet needs in surgical imaging by improving visual elements essential for Sinus surgery – light, color, and resolution – via optimized 4K imaging chain that works seamlessly together.
---
Original Press Release:
Olympus Launches VISERA 4K UHD System for Improving Visualization up to 4x During ENT Procedures
Light, Color and Resolution Improve Visual Elements Helping Surgeons Operate with Improved Precision and Confidence

CENTER VALLEY, Pa., -- Olympus, a global technology leader in designing and delivering innovative solutions for medical and surgical procedures, among other core businesses, announced today that Big Screen surgery with 4K UHD endoscopy is now available for ear, nose and throat (ENT) surgeons through the Olympus VISERA 4K UHD System.

VISERA 4K UHD, the first of many products from the Sony Olympus Medical Solutions (SOMED) joint-venture, is a state-of-the-art Big Screen surgical system that Olympus unveiled earlier this year to a broad surgical base. The VISERA 4K UHD System delivers four times the resolution of HD with better light and a wider color spectrum, promising to help surgeons operate with increased precision and confidence.

The only fully integrated 4K imaging chain available for healthcare use, VISERA 4K UHD allows operating room personnel to get closer to the operating field as they view cases live on a 55-inch operative display that magnifies anatomical features to deliver more visual information to the entire surgical team. The VISERA 4K UHD System was created to address unmet needs in surgical imaging by improving the visual elements essential for Sinus surgery – light, color and resolution – via an optimized 4K imaging chain that works seamlessly together to improve visibility.

Among the procedures identified as potentially benefiting from 4K UHD are Skull Base procedures (such as those for the removal of cysts or benign or malignant tumors) and Functional Endoscopic Sinus Surgery (FESS), a surgical treatment of sinusitis and nasal polyps, including bacterial, fungal recurrent, acute and chronic sinus problems. According to Truven Health Analytics Inc., there were more than 4,900,000 sinus procedures performed in the United States per year.[i Specific to FESS, it is estimated that approximately 552,000 patients undergo the procedures annually in the United States.[ii

"As each specialty confirms the improved experience that Big Screen surgery delivers, we get closer to confirming our predictions that this surgical modality could impact as many as 20 million procedures per year," said Todd Usen, President, Olympus Medical Systems Group at Olympus Corporation of the Americas. "In the future months, we believe an increasing number of physicians will be excited to see the benefits such technology advancement can bring toward improving quality of care, containing costs and enhancing patient satisfaction."

Big Screen Surgery with 4K HD for ENT will be demonstrated at the Olympus booth, #1805 at the American Academy of Otolaryngology – Head and Neck Surgery (AAO-HNSF) Annual Meeting & OTO EXPO in San Diego, Sept. 18-20. The system will also be available for demonstration at the American Rhinology Society conference Sept. 16-17, also in San Diego. For more information, please contact Olympus customer service at 1-800-848-9024 or visit www.OlympusAmerica.com/4K.

About Olympus
Olympus is a global medical device and precision technology leader focused on enhancing people's lives every day through innovative solutions in its core business areas of Medical and Surgical Products, Scientific Solutions, and Cameras and Audio Recorders. Olympus Corporation of the Americas – a wholly owned subsidiary of Olympus Corporation in Tokyo, Japan – is headquartered in Center Valley, Pennsylvania and employs more than 5,000 people across North and South America. For more information, visit Olympus at www.olympusamerica.com and www.olympus-global.com.

[i Data for use in this 2012 study were supplied by Truven Health Analytics Inc., Ann Arbor, Michigan ("Truven Health"). Any analysis, interpretation or conclusion based on these data is solely that of the authors and Truven Health disclaims responsibility for any such analysis, interpretation or conclusion.
[ii US Market for ENT and Bronchoscopic Devices Report Suite – 2016, iData Research Inc.

CONTACT: Michael Levey, Olympus Corporation of the Americas , 484-896-5120, michael.levey@olympus.com

Web Site: http://www.olympusamerica.com
More from Electrical Equipment & Systems